Pressed Flowers and Snake Weights: Digitizing Norman Allatt's War Diaries
---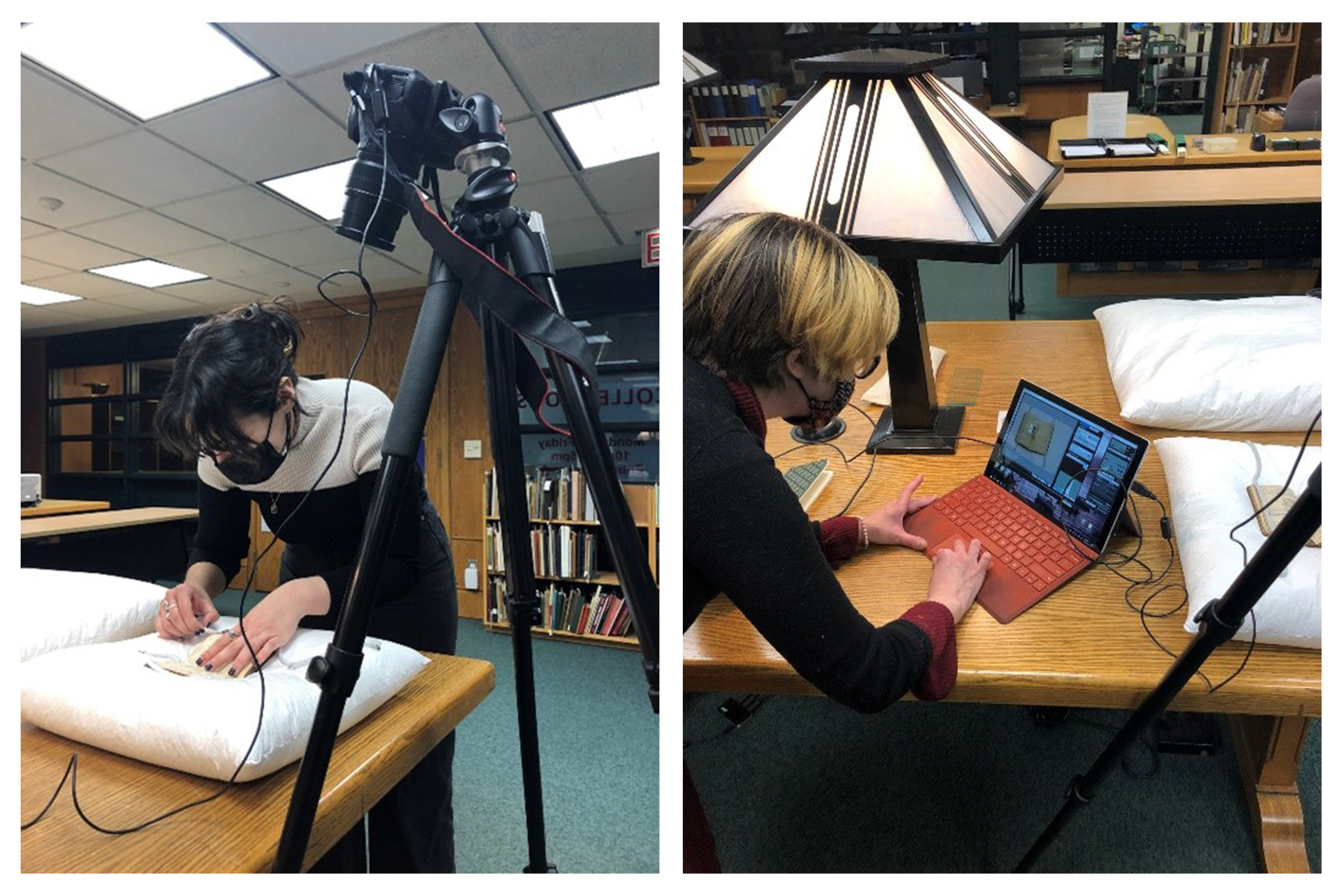 Left: Research Assistant Diamond Carvalho; Right: Archivist Anna Krentz
---
MLC Archivist
The process of digitizing century-old war diaries is intricate. Careful handling is mandatory. As one scans or photographs page after page, attention must be focused on support of a book's spine, the brittleness of paper, the potential complexity of materials inserted or attached. And yet the very need for that handling, ideally as rare as possible for most materials, opens a space for connection with the material on a level even the best digital surrogates never can.
In November of 2021, I received a note from our director, Irene Gammel, and Ben Taylor, the research assistant lead, indicating a promising new set of diaries that fit within our parameters for Operation Canada, housed at the McMaster University Archives in Hamilton, Ontario. These personal diaries were written across several years of World War One by Norman Allatt, a young soldier from Toronto who had emigrated from England in his teens. With excitement, I equipped myself with a camera and tripod from the MLC and set out for a field trip to Hamilton, Ontario. In this trip I was accompanied by MLC research assistant Diamond Carvalho, an undergraduate student in History at Ryerson.
The Norman Allatt fonds, donated to the McMaster Archives by his nephews, includes three diaries, a notebook, photographs, postcards, and several trench maps. This much we knew from the finding aid, but little else, except that the tight binding of the diaries precluded the flatbed scanning that had suited other, more flexible volumes, calling for our camera-based trip. Thanks to the archivist at McMaster, we also had at our disposal additional materials for the safe digitization of such delicate materials: a yielding and manipulatable cushion for books' spines and a white, rope-like "snake weight" to gently flatten pages without stress.
Material Objects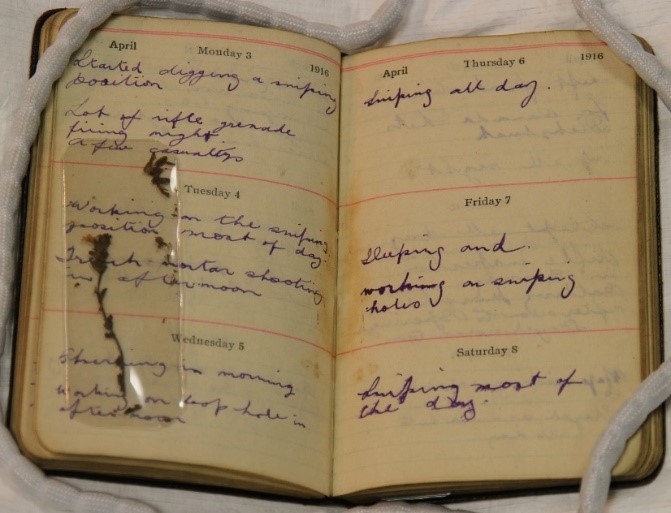 At the archives, Diamond and I set up our camera and tripod in a close model of a formal copy stand, the camera fixed horizontally over the digitization surface. With the camera connected to the laptop, we could see through the open lens remotely, as well as release the shutter touch-free, eliminating the risk of motion blur in the long-ish exposure necessitated by the lower light and non-use of flash. Additionally, as I sat at the screen, while Diamond carefully arranged each page, I caught snatches of Allatt's entries, week by week. I thus knew directly from him, before reading any of the contextual material, that his birthday was the day before mine, a connection that struck me at his brief notation on December 7, 1915: "Spent my birthday in trenches."
While Diamond had undertaken the transcription of previous war diaries, our work with the Allatt collection was her first encounter with the material objects themselves, and we shared the moving experience of discovering Allatt's life not only through his words, but also in the traces of his physical engagement with these personal items. Allatt, we discovered, had a penchant for pressing flowers and leaves—at least ten, spread across the pages of his three diaries and notebook, including two maple leaves. He did not, however, always wait for them to be completely dry, with several of the relevant spreads demonstrating the stains of plant material. Previous war diaries I had handled had included several pressed flowers as well, the delicate petals of which I moved to and from the scanner glass with tweezers. The affective impact is always strong; before us, flowers, grown amongst the battlefields of World War One, picked and preserved by young soldiers, many of whose comrades endured hardly longer than those other, unpicked flowers on the front.
Telling Details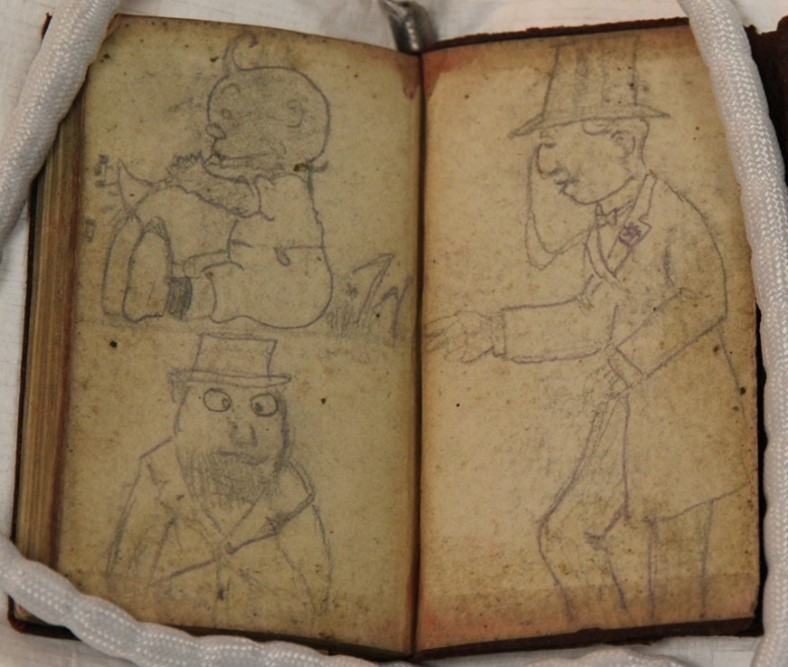 The physical diaries shaped our perceptions of Allatt in other ways, too. We watched, page by page, as the sporadic and brief entries from his training in Toronto turned daily with his deployment overseas and then to the front, lines crammed into the diary's limited spaces, suggesting a new need to document his changed life. We marked the range of his recordings, from a happily noted "feed of eggs and chips" to the terse but telling "too scared to sleep." His cartoony drawings on the endpapers of his 1914 diary had us smiling. We learned he never used the pages at the ends of the diaries marked up for accounting, that there was a sweetheart at home named Gertie, and that his daily entries were important enough to him that he not only recorded each day of the first week of 1916 in the 'memoranda' section of his 1915 diary, he copied the entries out into his 1916 diary once he had it. The photographs and postcards preserved along with the diaries fell into dialogue with the texts. Loving postcards were sent by Gertie (who he did go on to marry, after the war). The 5' 4" stature he duly recorded in the 'identifying information' frontispiece of each diary, along with his address, hat size, and watch's case number, is evidenced in group photos from happier days.
Beyond Digitization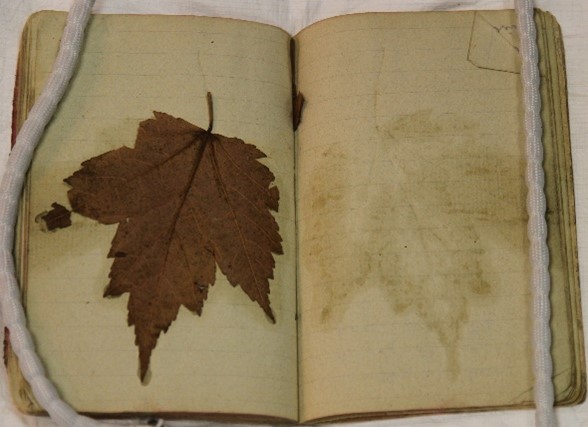 The work of the MLC team with Allatt's diaries and other materials is ongoing. Transcriptions of each entry will deepen the glimpses of experience and character snatched through the process of digitization, enhanced by the contextualization of additional historical research. The hundreds of photographs we made over the course of that afternoon at McMaster will be vital in engaging Allatt's story, expanding the narrative, and extending the public experience of his items beyond the research room. Potent as it is to handle the same pages and leaves as this long-ago soldier, the limitation of this touch is crucial to ensuring their continued preservation. It is thus especially important, I believe, to honour the rarity and power of such occasions of connection, and all the eventualities leading to them. A 21st century archivist, attention on her digitization tools, the fragility of paper, and the approaching closing time of an archive, might pause and shed a tear to turn a page and discover the pressed flowers of a young soldier of the Great War.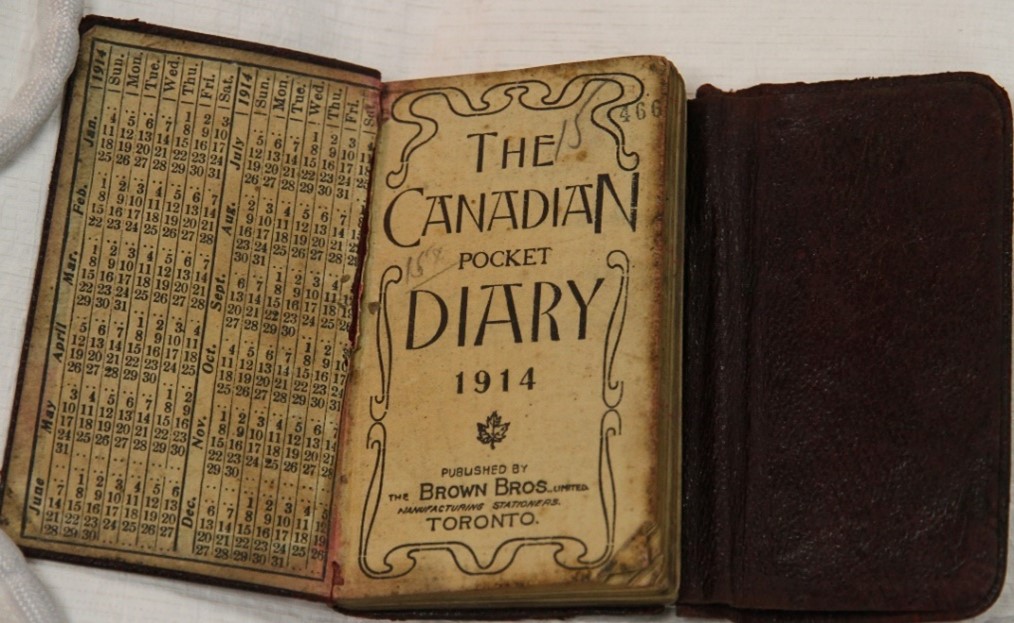 Biography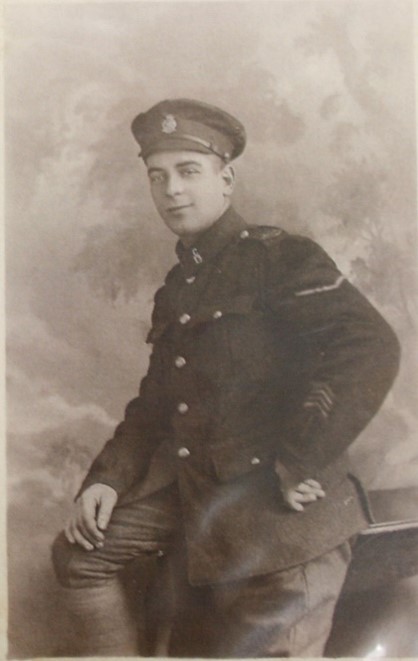 Norman Allatt was born on 7 December 1892, in Dewsbury, Yorkshire, England, the third of four children. In 1906, his parents, Fred and Anne Allatt, moved their family to Canada, arriving in Toronto on June 6, when Norman was 14. The family built their own house in what would become Victoria Park. Norman, working as a shoe machine operator since at least 1911, volunteered for the Canadian Expeditionary Force in January of 1915. The 22-year-old was posted to the camp on the Canadian National Exhibition grounds for basic training. In August 1915, he sailed to England with the 23rd Battalion. After additional advanced training, during which he visited relatives in Yorkshire while on leave, Allatt was assigned to the 14th Battalion, Royal Montreal Regiment, and sent to the front lines. His first day in the trenches was Monday, 1 November 1915.
Allatt remained with the 14th Battalion throughout the war, eventually working as a sniper. At times he obtained the rank of Lance Corporal, only to lose it due to minor infractions, such as being late to return from leave. He was fortunate enough to escape major injury, only ever receiving a minor cut on the forehead from a rock tossed up by enemy fire and returned to Canada with his battalion in April of 1919. After his discharge on May 5, 1919, Allatt resumed his former job as shoe machine operator. In May 1920 he and Gertrude May Benford entered into the marriage that would last their lives, though they never had children. The couple followed her parents to Detroit in 1923, where they eventually settled, Allatt working various jobs within retail. He died in January 1976, while Gertrude died the next January 1977.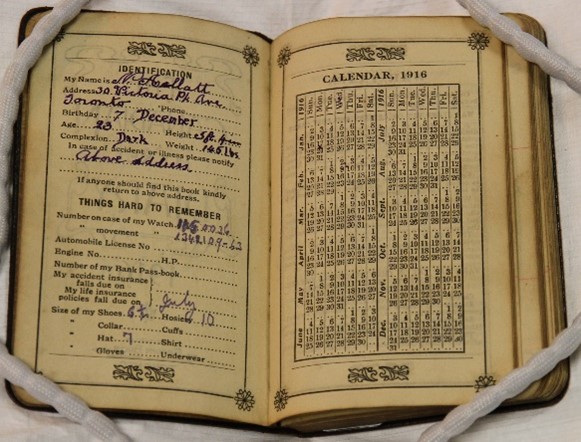 Norman Allatt's war diaries and other materials are held by the William Ready Division of Archives and Research Collections, McMaster University Library. They were donated in 2009 by Allatt's nephews, Doug, Bob, and David Allatt. The MLC extends thanks to David Allatt for reaching out to Operation Canada to highlight this remarkable collection.
All diary quotations are taken from Norman Allatt's 1914 - 1916 war diaries. Norman Allatt Collection, McMaster University Archives, Hamilton. Biographical details are drawn from a document included with the archival collection, authored by Doug, Bob, and David Allatt, September 18, 2009.
Image 1: Research assistant Diamond Carvalho arranging materials for digitization at the McMaster University Archives, December 14, 2021. Modern Literature and Culture Research Centre
Image 2: Archivist Anna Krentz photographing war diary at the McMaster University Archives, December 14, 2021. Modern Literature and Culture Research Centre.
Image 3: Norman Allatt, pocket diary spread dated April 3 – 8, 1916, with pressed flowers. Norman Allatt Fonds, McMaster University Archives. The plastic sleeve around the flowers was added by for preservation purposes, though the original placement of the flowers can be seen in the discoloured outlines near the inside margins.
Image 4: Norman Allatt, sketches, back endpapers of 1914 pocket diary. Norman Allatt Fonds, McMaster University Archives.
Image 5: Maple leaf pressed in Norman Allatt's notebook, ca. 1915-1916. Norman Allatt Fonds, McMaster University Archives.
Image 6: Title page of Norman Allatt's 1914 pocket diary. Norman Allatt Fonds, McMaster University Archives.
Image 7: Unknown photographer, Studio portrait of Norman Allatt in uniform, 1915-1919. Norman Allatt Fonds, McMaster University Archives.
Image 8: Norman Allatt, identification notes, with calendar, 1916 pocket diary. Norman Allatt Fonds, McMaster University Archives.