A Canadian Officer's Pocket Diaries and Winnie-the-Pooh
---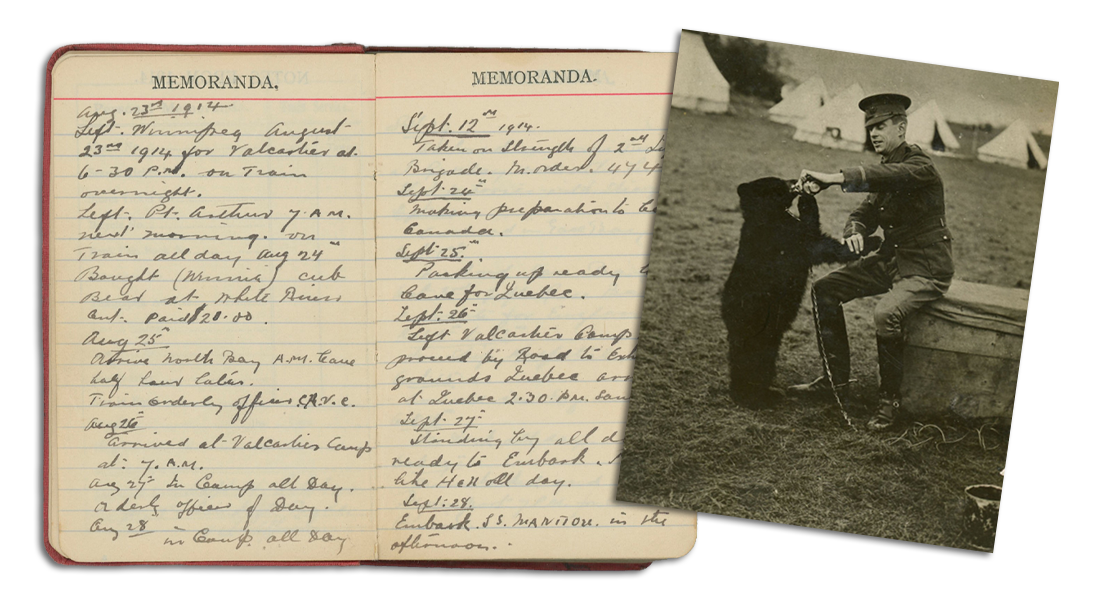 ---
Ryerson University
On Sunday, 23 August 1914, Winnipeg veterinarian Harry Colebourn (1887-1947) embarked on the long journey into the war. On Monday, passing through Ontario, he spontaneously adopted a motherless bear cub, as he relayed the event in his pocket diary: "On train all day Aug 24th Bought (Winnie) cub bear at White River Stn. Paid $20."1 He named the female bear orphan Winnie after his prairie hometown Winnipeg. Photographs show Colebourn and Winnie bonding during military training first in Valcartier and later in Salisbury, England. They show his regiment in moments of relaxation and decompression, posing with the playful pet. A nostalgic postcard photograph shows a smiling Harry feeding Winnie, inscribed on the back: "Myself and Winnie the Bear," adding, "Winnie is now on exhibition at the zoo in London, but is coming back to Canada with me someday."
These empathic images of bonding contrast Colebourn's diary, which omits all emotion. "Took Winnie to zoo. London," he records their separation in December 1914. Nonetheless, Colebourn's diary is unique with its focus on animals, his relationship with Winnie revealing the deep interconnectedness between human and animal during war. In February 1915, as Colebourn sailed to the war front in France, he reported: "Sea very rough and I was damn sea sick. Just laid down in hay with the horses." Ultimately, Colebourn's entries illustrate Zlata Filipovic's argument that war diaries create a private space that helps the writer control an uncontrollable outside world. These entries also ask us to look for the silenced emotions underneath the gaps and omissions.
Harry's Pocket Diaries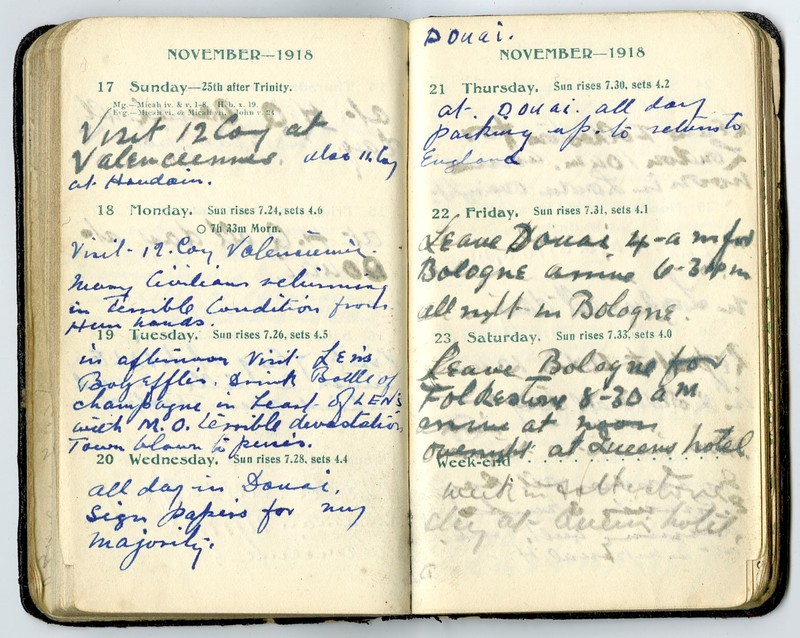 From 1914 to 1918, while serving as a Canadian Army Veterinary surgeon, Colebourn filled the pages of six pocket-sized diaries, each in a different cover: black, dark green, red, burgundy, green, and teal. From Ypres to the Somme to Vimy, Colebourn recorded camp life at the Western front. He wrote his logs in pencil or in black, blue and red ink,2 using a fragmentary, compressed writing style with transitions abrupt like the war itself. Violence strikes without warning, as in the entry of 19 April 1915 set in the city of Ypres in Flanders:
Visit [horse] lines A.M.

Germans shell town and kill 4 soldiers in Grand Place. Many others injured. Saw aeroplane fall. Stay in cellar under large grocery store for several hours. Tremendous shelling.

Fine.
The threat is real and intense, as Colebourn collages snapshot actions while omitting his own feelings. Pruning the first-person pronoun evokes a diarist who finds safety in the underground's invisibility. Only the verbs assert the writer's agency as a witness. His simple camera eye illustrates Filipovic's point that the process of writing helps preserve the writer's sanity during war. "Through observing and writing," she explains, war diarists experience "a form of distancing from the terrible situation, even if it is only for the duration of the writing."
Uniquely, Colebourn is a dual diarist. As an official record-keeper for the Canadian Army Veterinary Corps, he made monthly reports on the welfare of the animals, notably the horses. In his personal diary, he similarly gives updates on the animals in his care. For example, his memo of April 1917, the month of the Vimy Ridge attack, notes its impact on the animals: "Very severe month on our Horses many die from exposure." Another typical entry reads, "1 Saddle horse destroyed, 18 Btln. A.M." (26 March 1917). Once again, he works through omission, leaving out the fact that he had put down the wounded horse by shooting it. Such omissions gloss over the emotion, which nonetheless lurks underneath this stark prose.
Colebourn creates the same distance when talking about his own vulnerability, as on 28 December 1917: "Go to Bed down sick." Indeed, his medical file reveals that as early as 1915, he was repeatedly in the hospital in Le Havre, France, and Leeds, England, requiring treatment for influenza, gonorrhea, and a bladder infection. By 9 January 1918, he was diagnosed with Disordered Action of the Heart, or D.A.H., also called soldier's heart, caused by "stress of General service."3 He was so run-down that he required an extended medical leave to Canada until May, after which he returned to the battlefield.4 His medical chart reveals what the diary refuses to state explicitly: that Colebourn was deeply affected by the war.
Winnie-the-Pooh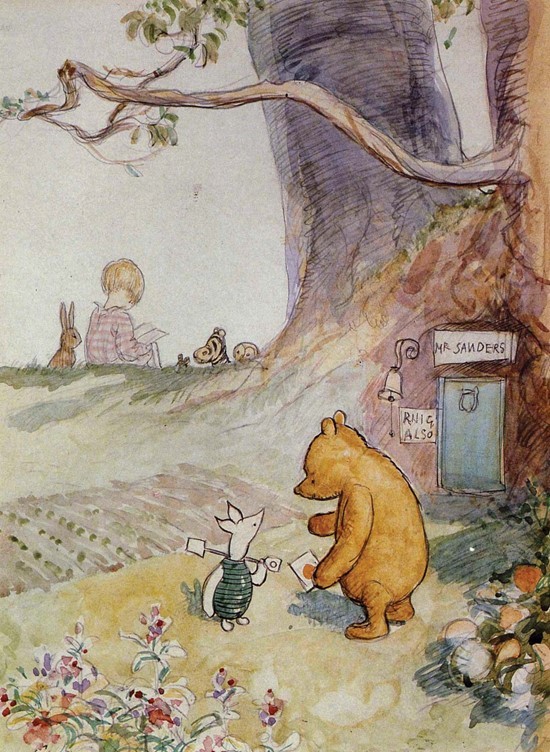 So what about Winnie? Colebourn turns to Winnie when on leave, as in this typical 8 July 1915 entry: "In London all day. Visit zoo in morning and see Winnie." The diary builds their bond through repetition, her name echoing throughout the war years on each leave and during periods of convalescence in England. Winnie is a touchstone of restoration and connection and Colebourn's visits provide evidence of the unspoken companionship and loyalty that draws him to her. This is precisely the point of intersection with British author A. A. Milne who met Winnie the bear during the 1920s.
Milne was inspired by his visits to the London zoo and wrote his novel Winnie-the-Pooh (1926) based on these encounters, celebrating the friendship between Christopher Robin, Milne's son, and Winnie the bear. In the wake of the war, Milne used his writing to revivify a pacifist vision that associated peace with childhood. The honey-loving bear Winnie-the-Pooh lives in the thousand-acre wood, enjoying adventures with his friend Piglet, Tigger, and Eeyore. The novel and its sequels were illustrated with drawings by E. H. Shepard who had been a war artist sketching the conflict in small, evocative drawings. Shepard's drawings are the product of a singular artistic consciousness but configure war and peace as diametrical opposites.
This pivoting of war and peace, of distance and companionship, was central to Harry Colebourn, the man behind the real Winnie. With his pocket diaries and photographs, Colebourn ultimately left his mark on history. While he did not write his diaries as historical records, his diaries and photographs ended up precisely that: artefacts documenting the codependence between human and animal during conflict, while also asking us to feel what the author has omitted—the underlying recuperative power of emotional connection.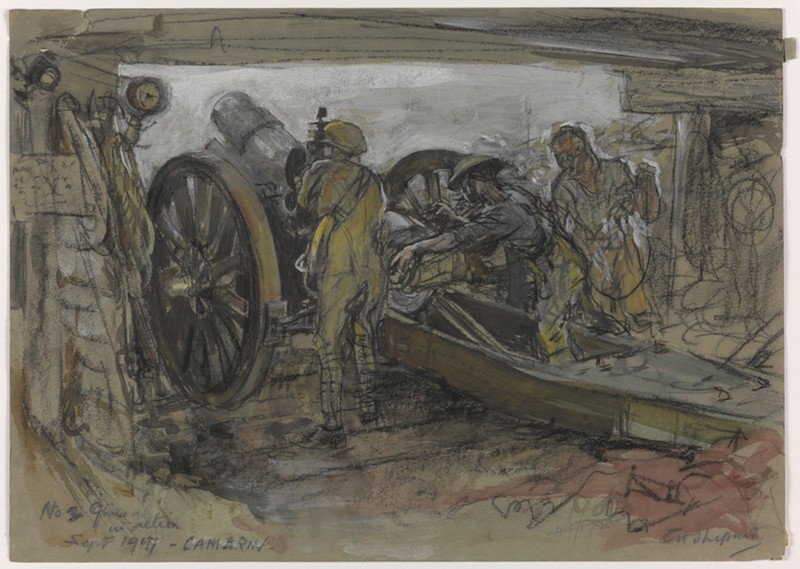 Biography
Harry Colebourn was born on 12 April 1887, in Birmingham, England, growing up with four siblings in the mill-town of Dewsbury, West Yorkshire, the second child of (Edgar) John Colebourn, a domestic coachman, and Alice Colebourn. When Harry was 12, his father accepted a position as a coachman for the 5th Earl of Cowper at Melbourne Hall in Derbyshire and moved his family to this grand estate. Yet in 1901, at the age of 13, Harry struck out on his own; he became an apprentice butcher with Arthur Hodgkinson and lived with the Hodgkinson family at 19 Siddals Road in Derby. In March 1905, the 18-year-old Harry boarded the SS Bavarian to travel to Canada, where he worked for a few years in and around Toronto, typically in menial jobs selling fruit or working seasonally on vessels. He saved up enough money to enroll as a student in veterinary college in Guelph in 1908. After graduating in 1911, he settled in Winnipeg, where Dr. Colebourn worked for the province's Department of Agriculture and became a militia officer with the 18th Mounted Rifles, immersing himself once more in the care of horses that was his family's legacy. A year later, in May 1912, he became an officer with the 34th regiment of cavalry, Fort Garry Horse, in Winnipeg. After the war, he upgraded his education, and returned to Winnipeg where he launched a veterinary clinic for small animals.
Diaries
Colebourn's diaries are held in the Colebourn Family Archive. These diaries were first exhibited in 2014 as part of Remembering the Real Winnie, curated by Katie Addleman and Irene Gammel. For digital transcriptions of the diary, see https://therealwinnie.ryerson.ca.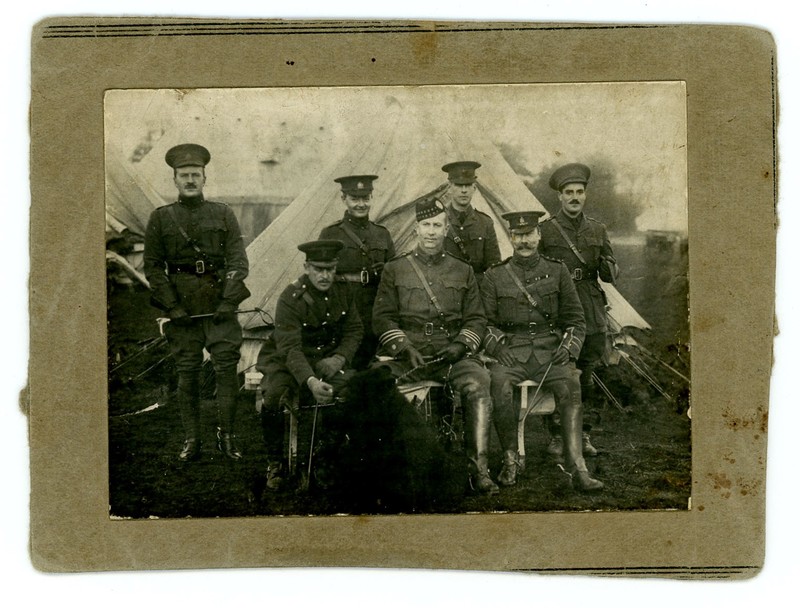 Endnotes
All diary quotations are drawn from Harry Colebourn's pocket diaries in 6 volumes, transcribed at MLC Research Centre, 2014.
Addleman, Katie and Irene Gammel, cur. Remembering the Real Winnie: The World's Most Famous Bear Turns 100, November 5 – December 7, 2014, Ryerson Image Centre, Toronto; November 7, 2016 – October 31, 2019, Winnipeg Assiniboine Park Gallery, Winnipeg (now permanent exhibition).
Colebourn, Harry. Pocket diaries in 6 volumes. Harry Colebourn Family Archive.
Filipovic, Zlata. "Introduction," Stolen Voices: Young People's War Diaries, From World War I to Iraq. Toronto: Penguin, 2006. xi-xvi.
Milne, A. A. Winnie-the-Pooh. Illustrations by E. H. Shepard. London: Methuen & Co, 1926.
"Records of Capt. Harry Colebourn." Personnel Records of the First World War. Library and Archives Canada, Ottawa, RG 150, Box 1844, file 22.
Shepard, Ernest H. Shepard's War, complied by James Campbell with foreword by Minette Shepard. Michael O'Mara Books, 2015.
1. Harry Colebourn, Entry of August 24, 1914, recopied and expanded in Diary 1915. Colebourn Family Archive.
2. Harry Colebourn and Winnie, postcard photograph, postcard dated January 1915. Colebourn Family Archive.
3. Harry Colebourn, Diary, 1918. Colebourn Family Archive.
4. E. H. Shepard, Winnie-the-Pooh and Piglet, illustration. Advertising Archive/Courtesy Everett Collection.
5. E. H. Shepard, No, 2 Gun in Action, September 1917. Crayon and washing drawing, 25.4 x 35.6 cm. Imperial War Museum.
7. Harry Colebourn (back row, 2nd from left), with Arthur Currie (centre), and Winnie (centre front), on Salisbury Plain, October 1914 to February 1915. 5th (BC) Regiment Royal Canadian Artillery. Colebourn Family Archive.