Miss Canada: The Autograph Book of Matron Inga Johnson
---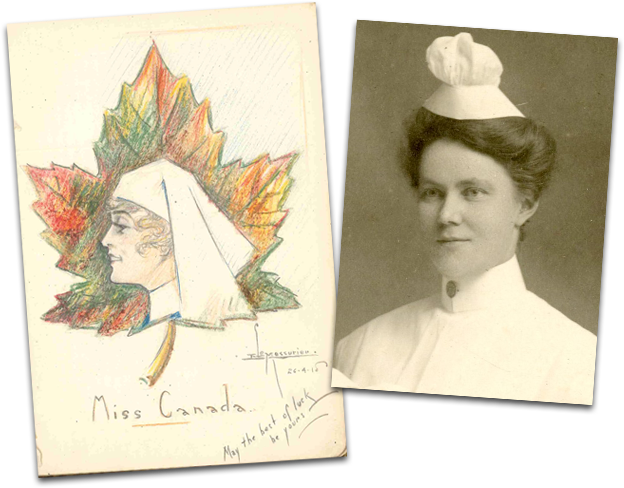 ---
Canadian War Museum
Inga Johnson was a qualified nurse when she enlisted at age 34 with the Canadian Army Medical Corps (CAMC) in August 1916. After graduating from the Winnipeg General Hospital School of Nursing in 1907, she gained experience in nursing, supervision and management. Standing at 5 feet and 8 inches tall, with bright blue eyes and a strong physique, Johnson was a superb candidate for the army.
Nursing Sister Johnson arrived in England at the end of August 1916. She spent a few days at the Moore Barracks Hospital in Shorncliffe and was then posted to No. 1 Canadian General Hospital in Étaples, France. Starting her work on 3 September 1916, she quickly faced the harsh realities of the war: close to 800 sick and wounded soldiers were admitted in the next three days.1
On 28 July 1917, Inga Johnson took on a new challenge. She was appointed Sister in charge of No. 4 Canadian Casualty Clearing Station (No. 4 CCCS) in Longuenesse, France. Closer to the front line, she witnessed air raids and the destruction caused by bombs falling within the hospital grounds.2 At the beginning of May 1918, she was promoted to the rank of Acting Matron, whereby she supervised a group of about twenty-five nurses at the Casualty Clearing Station. In 1918, Matron Johnson and her unit moved seven times, treating mostly British, Canadians and other Imperial soldiers who were fighting in the Last Hundred Days Campaign. She witnessed terrible loss and carnage, even as she cared for the thousands of wounded soldiers who passed through the Casualty Clearing Station.
From February 1917 until she returned to Canada in April 1919, Nursing Sister Johnson kept a diary which is reproduced in full in Operation Canada. Taking the form of an autograph book, it sheds light on the relationship between the nurses, their patients and colleagues.
The Autograph Book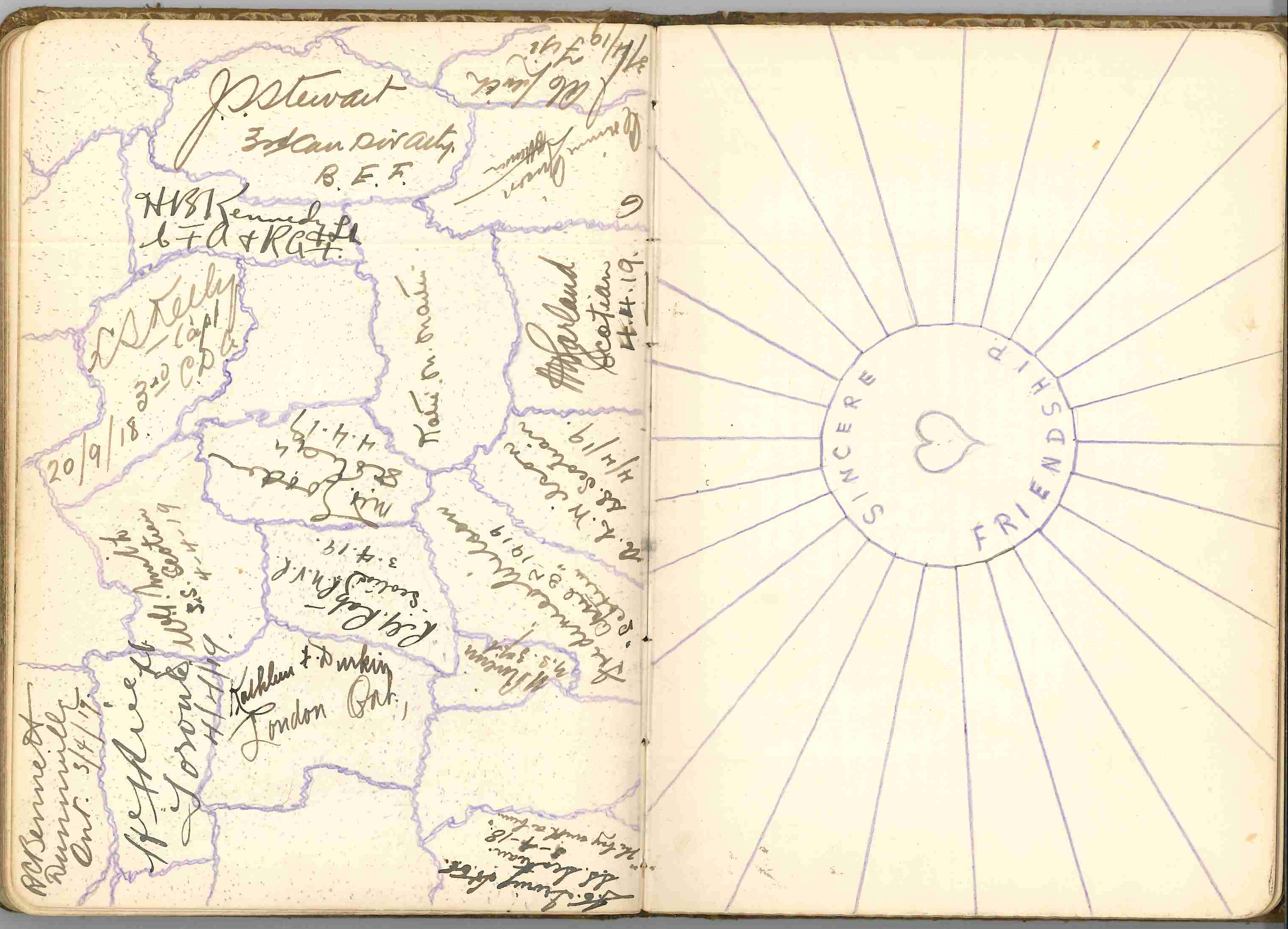 Autograph books were common among the Canadian Army Medical Corps nursing sisters. They are filled with their comrades and patients' autographs and addresses, with funny rhymes and verses, quotations from favourite writers, poems, and drawings. They speak to the interactions and impact of nurses with patients in care and convalescence.3 Notes and drawings in notebooks provided amusement for both nurses and patients, and they also gave the latter something to do during their long hours of hospitalization.
Almost all the entries in Johnson's autograph book include elements of self-identity: a signature, a unit name or insignia, a regimental number, a country of origin, memories of home. Soldiers often make fun of aspects of army life; they sometimes ridicule or demonize the enemy, mock clueless civilians or lament the plights of women and children left behind. Autograph books are also a visual statement of the men's presence in the hospital, the remnants of battle, and an unspoken testimony that they might again face another uncertain tomorrow.
The first entry in Nursing Sister Johnson's notebook is dated 6 February 1917 and signed by Private W. Hadley, of the 1/6 South Staffordshire Regiment, British Territorial Force. It praises the nurses' courage and devotion, which is a recurring theme:
And this poor tribute represents the least that I can do,

To show our heartfelt gratitude to every sister who,

Has faced the dangers of the sea and lands, thro' dark or light,

To serve us – those brave ladies in blue and cap of whites4
Indeed, the organisation of medical units in the Canadian Army Medical Corps hospitals was conducive to the development of emotional bonds between a nurse and her patients. This is especially true for patients who were moved to stationary or general hospitals, located farther behind the front line. A hospitalised soldier was admitted to a ward based on his injury or illness and nursing sisters were the ones managing the day-to-day life in the wards. Depending on the nature of their patients' affliction, a nurse could take care of them for weeks, even months.
Canadian Bluebirds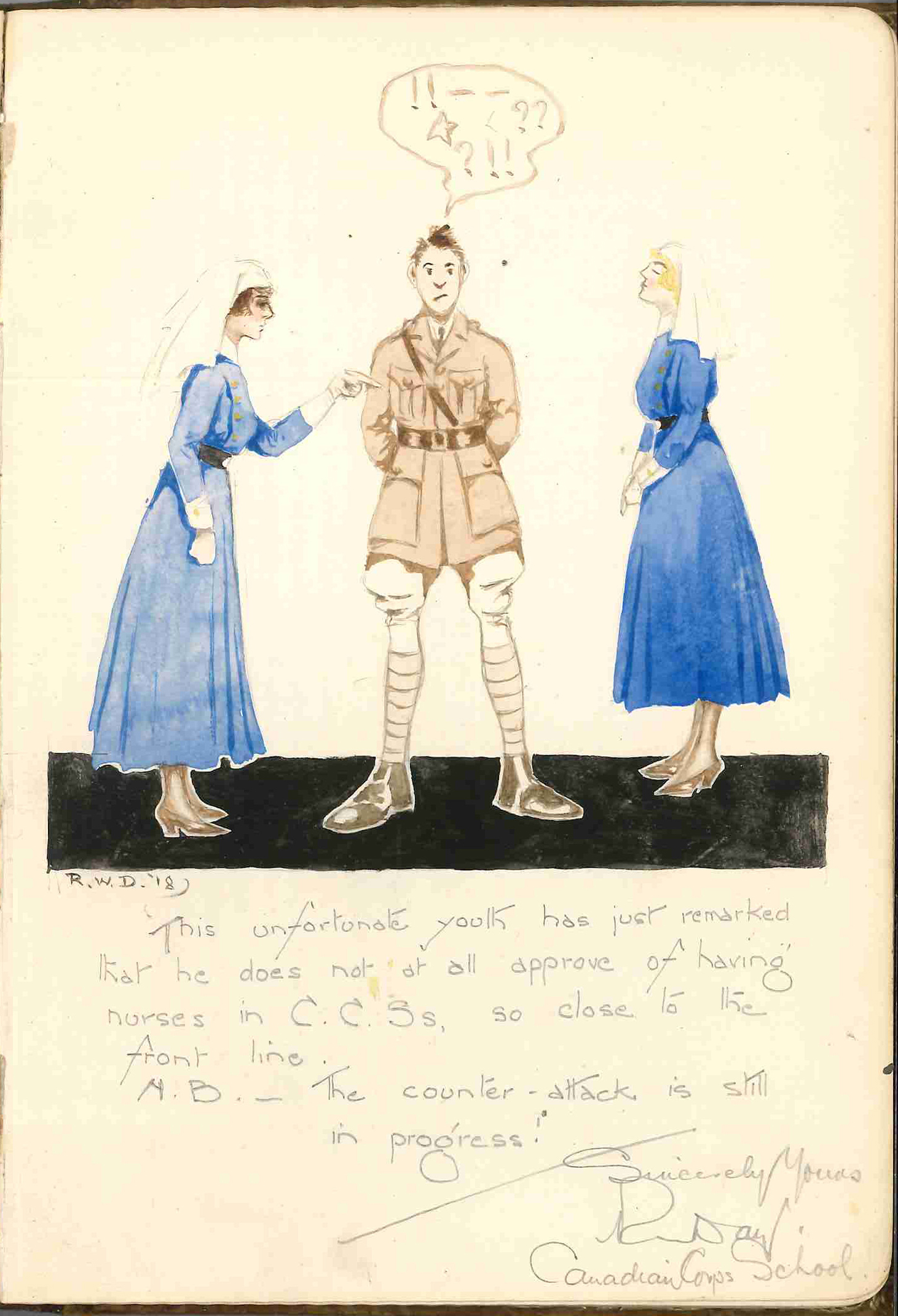 The expression "ladies in blue and cap of whites," in Private Hadley's poem, also recognizes one of the Canadian nurses' proudest possession: their blue uniforms. Many nurses commented on it, and most agreed that it was "a thing of beauty."5 The stars on their uniform also showed off their rank: the Canadians were the only women officers among the Allied forces at the time. In a few drawings, notably on p. 83, the Canadian nurses' uniform emerges in all its glory. But taking a closer look to the accompanying text reveals a more profound and debated topic: the proper place of a nursing sister in a male-dominated environment.
Indeed, the author, an officer of the Canadian Corps School, writes: "This unfortunate youth has just remarked that he does not at all approve of having nurses in C.C.S. so close to the front line." The author adds that this was a bad move: "The counter-attack [from the nurses, as the drawing suggests] is still in progress!"
In the spring of 1918, when this entry was written, Inga Johnson was the matron in charge of No 4 Canadian Casualty Clearing Station. At the beginning of the war, nurses were not supposed to be posted in casualty clearing stations, deemed too close to the front. Soon, however, "it was realized that nurses were as necessary in the small units as in the larger hospital units."6 This image is of interest because the nurses are dressing down the unfortunate officer, making it clear that while the Casualty Clearing Station was close to the battle, it was essential for nurses to be there to care for the wounded. These nurses fully understand their dangerous work and refuse to accept a safer hospital position because they are women.
Castor Oil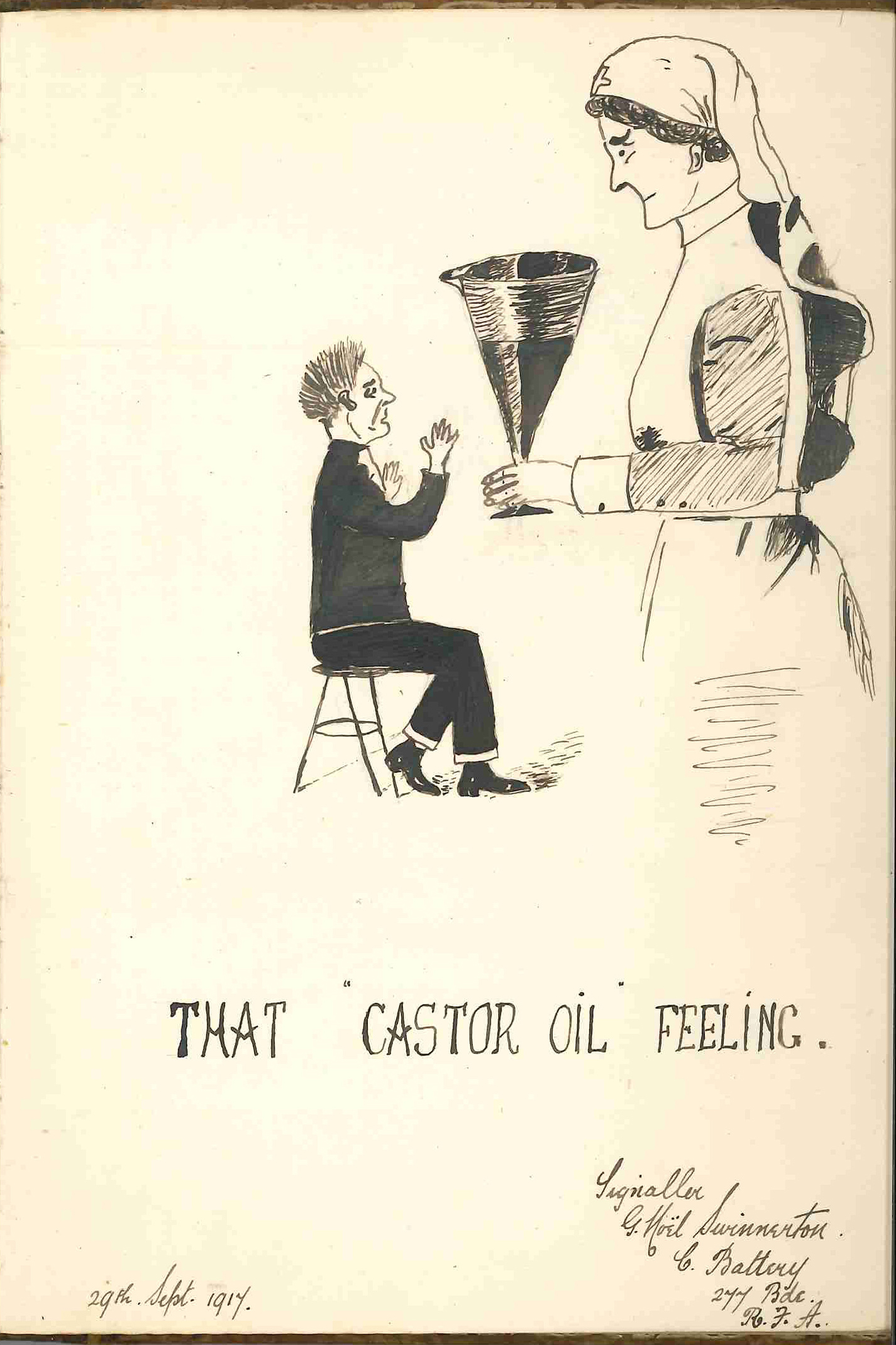 If some entries appear to question the place of women so close to the front line, others use humour to criticize some of the treatments the nurses had to conduct. The drawing entitled "That Castor Oil Feeling" (p. 50), by British Signaller G. Noël Swinnerton of the Royal Field Artillery, depicts a panicked tiny soldier, next to a gigantic Nursing Sister presenting him with a massive goblet of castor oil. The oversized nursing sister is obviously the authority figure, and the helpless little soldier knows he must obey. And anyone who had tasted the foul-tasting castor oil, often prescribed for digestive tract issues at the time, could understand the look of terror on the poor soldier's face.
But apart from a few exceptions, most of the patients notes expressed their gratitude towards the nurses. They praised the nursing sisters' devotion; showed appreciation for the nurses' cheeriness, kindness and hard work (p.6), for their "kind hearts", (p.82) as well as their "tender woman's hands… art of skill and gentleness" (p.65). D. Torrance, of the Royal Flying Corps, seemed to have summed up the feelings of many when he wrote, in March 1918: "May we never fail to remember, / Those that helped us in our pain." (p.81)
Biography
According to her enlistment papers, Inga Johnson was born on 17 October 1881 in Gimli, Manitoba. A Graduate of the Winnipeg General Hospital (1907), she was Lady Superintendent in 1910 and in charge of the Social Service Department until 1914. She enlisted for military service in August 1916 and served overseas until March 1919. In January 1919, she was awarded the Royal Red Cross (1st Class). In 1921, Johnson resumed her duties at the Winnipeg General Hospital, but she had to resign in December due to poor health. She joined the staff at Ninette Sanatorium in 1926 and, in 1933, accepted the position of Matron of the Icelandic Old Folks' Home in Gimli, Manitoba. She died in January 1948, in Winnipeg, and is buried in the Brookside Cemetery.7
Endnotes
All diary quotations are taken from the Inga Johnson's 1917-1919 diary. George Metcalf Archival Collection, Canadian War Museum, Ottawa, 20160490-001. The original diary can be viewed here.
Adami, John George, War Story of the Canadian Army Medical Corps: Vol. 1. The First Contingent, Westminster, Canadian War Records Office, 1918.
"Biographical Note." Diary of Inga Johnson, Canadian War Museum, 20160490-001.
"Biographical Note." Inga Johnson, Class of 1907, Health Science Center Archives/Museum, Winnipeg.
Griffis McGill, Emma. Diary, 1917, Glenbow Archives, M742/8629.
"Inga Johnson Service File," Personnel Records of the First World War, Library and Archives Canada, RG 150, Accession 1992-93/166, Box 4877-25.
Johnson, Inga. Diary of Inga Johnson. ca. 1917-19. George Metcalf Archival Collection, Canadian War Museum, Ottawa, 20160490-001.
Toman, Cynthia, Sister Soldiers of the Great War, Vancouver, UBC, 2016.
War Diaries, No. 1 Canadian General Hospital, Library and Archives Canada, RG9-III-D-3, Volume number: 5034, Microfilm reel number: T-10924, T-10924, File number: 851.
War Diaries, No. 4 Casualty Clearing Station, Library and Archives Canada, RG9-III-D-3, Volume number: 5033, Microfilm reel number: T-10922, T-10922, File number: 841.
1. Inga Johnson, diary entry dated 26 April 1918, p. 64. Canadian War Museum Archives.
2. Inga Johnson, ca. 1907. Black and white photograph, Health Sciences Centre Winnipeg Archives/Museum.
3. Inga Johnson, undated diary entry, pp. 31-32. Canadian War Museum Archives.
4. Inga Johnson, undated diary entry, p. 88. Canadian War Museum Archives.
5. Inga Johnson, diary entry dated 29 September 1917, p. 50. Canadian War Museum Archives.