Trench Warfare School: An Ontario Bookkeeper's War Diary
---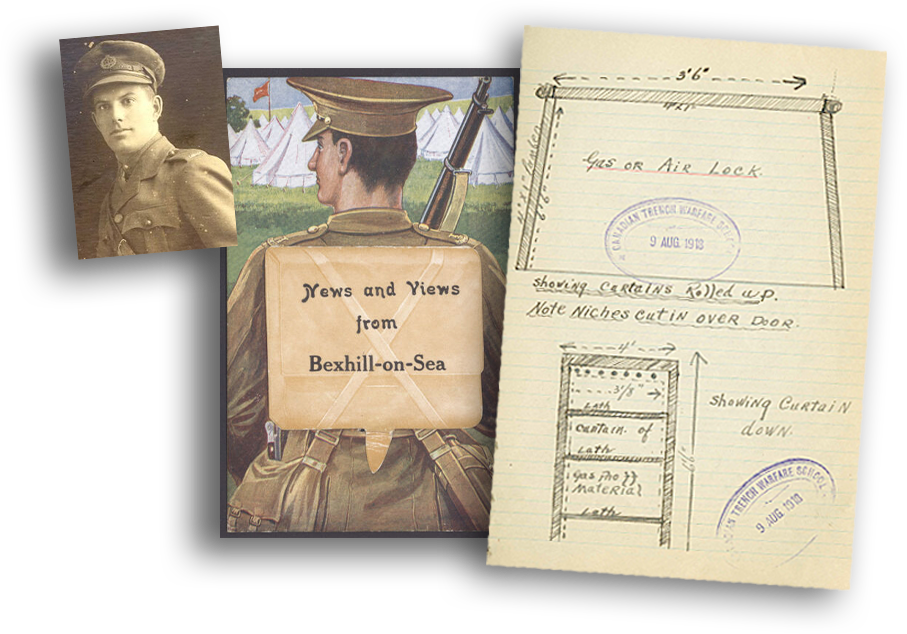 ---
Ryerson University
As a 22-year-old bookkeeper at the onset of the First World War, Percy Puley (1892-1953) trained in Valcartier, Quebec, before sailing overseas with one of the first contingents. He was involved in the war from beginning to end. Puley suffered injury in October 1915 when serving with the 3rd Battalion. The newly minted lieutenant also participated with the Princess Patricia's Canadian Light Infantry in the Battle of Passchendaele in Flanders in 1917, which earned him a Military Cross nomination.1 Confronted with two back-to-back counterattacks, and the loss of some thirty sergeants and corporals, Puley and another junior officer took action. Placing Lewis guns strategically, they slowly pushed forward with the 49th Battalion, deflecting the attack. In April 1918, Puley joined the 6th Canadian Reserve Battalion and 1st Depot Battalion (Eastern Ontario).2
By early 1918, Puley had moved to Seaford, Sussex, working in various training camps in England for the rest of the war. During this time, he was involved with the Canadian Trench Warfare School at Bexhill-on-Sea. However, since his name is missing among the handful of instructors listed in the official war diaries of the Canadian Trench Warfare School, it remains unclear if Puley was an instructor. He kept personal records for the course material, using his skills as a bookkeeper to organize and safeguard lesson plans. Today Puley's records, which are reproduced in full in Operation Canada, provide insight into what the soldiers learned before engaging combat.
The Journal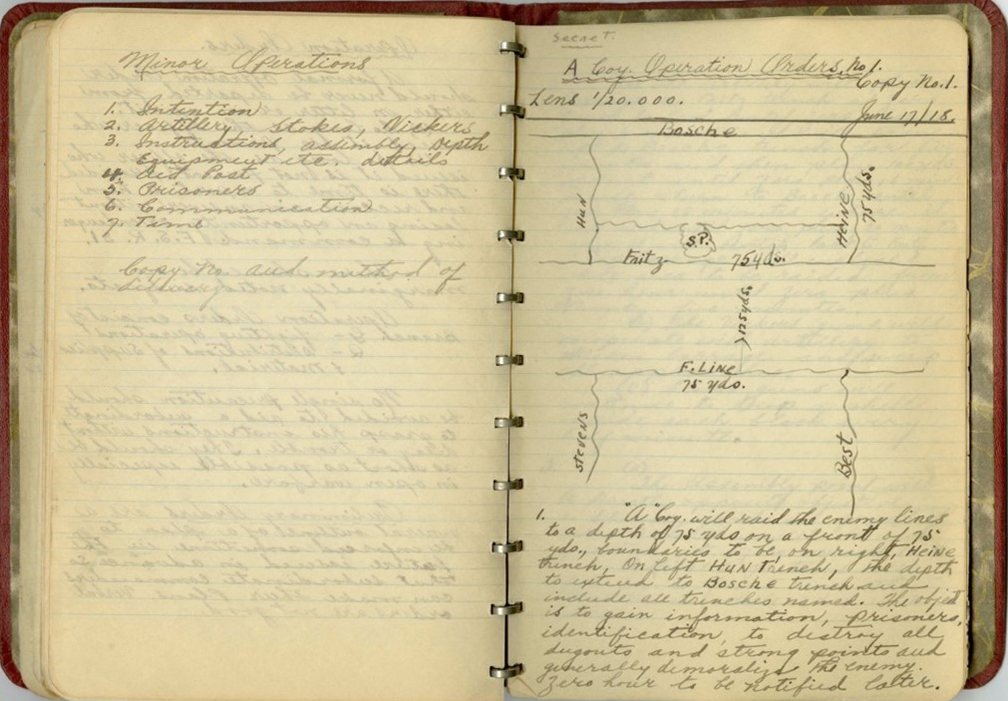 Puley's journal, a spiral notebook, contains 11 lesson plans with dates ranging from 17 June – 9 August 1918 with a focus on combat training and strategies of self-protection. His entries have evocative titles such as "Gas Course," "Food Supply," "Lewis Gun," "Narrative of a Raid," "Military Law," to name but a few. The journal also focuses on equipment such as respirators and weaponry. Crisp diagrams drawn in ink illustrate relevant content such as the hierarchies of command, the structure of secured and protected dugouts, and the operation orders in Lens. The Gas Course dated 27 July 1918 contains an intricate drawing in ink of the air lock protections for a dugout entry and shelving unit containing gas material, showing off the author's draftsmanship.
The register in these journals is highly impersonal. Consider, for example, his "Lewis Gun: Lecture no. 13," which states: "The weight of the gun is 26 lbs. The magazine weighs 1½ lbs. when empty and 4⅓ lbs when full." The detail allows readers to grasp the bodily strain involved in operating the gun, which required the support of several men.3 In addition, he provides exhaustive details of the gun's aluminum radiator, the gas chamber and cylinder, as well as the screws, locks, slides and springs that the soldier must check before action. A table provides additional instructions on Lewis Gun stoppages, its probable causes, and remedies, many of which require "immediate action." This precision parallels with Puley's own immediate action during the Battle of Passchendaele when he placed "his Lewis guns with excellent judgement" to repel two back-to-back counter-attacks.4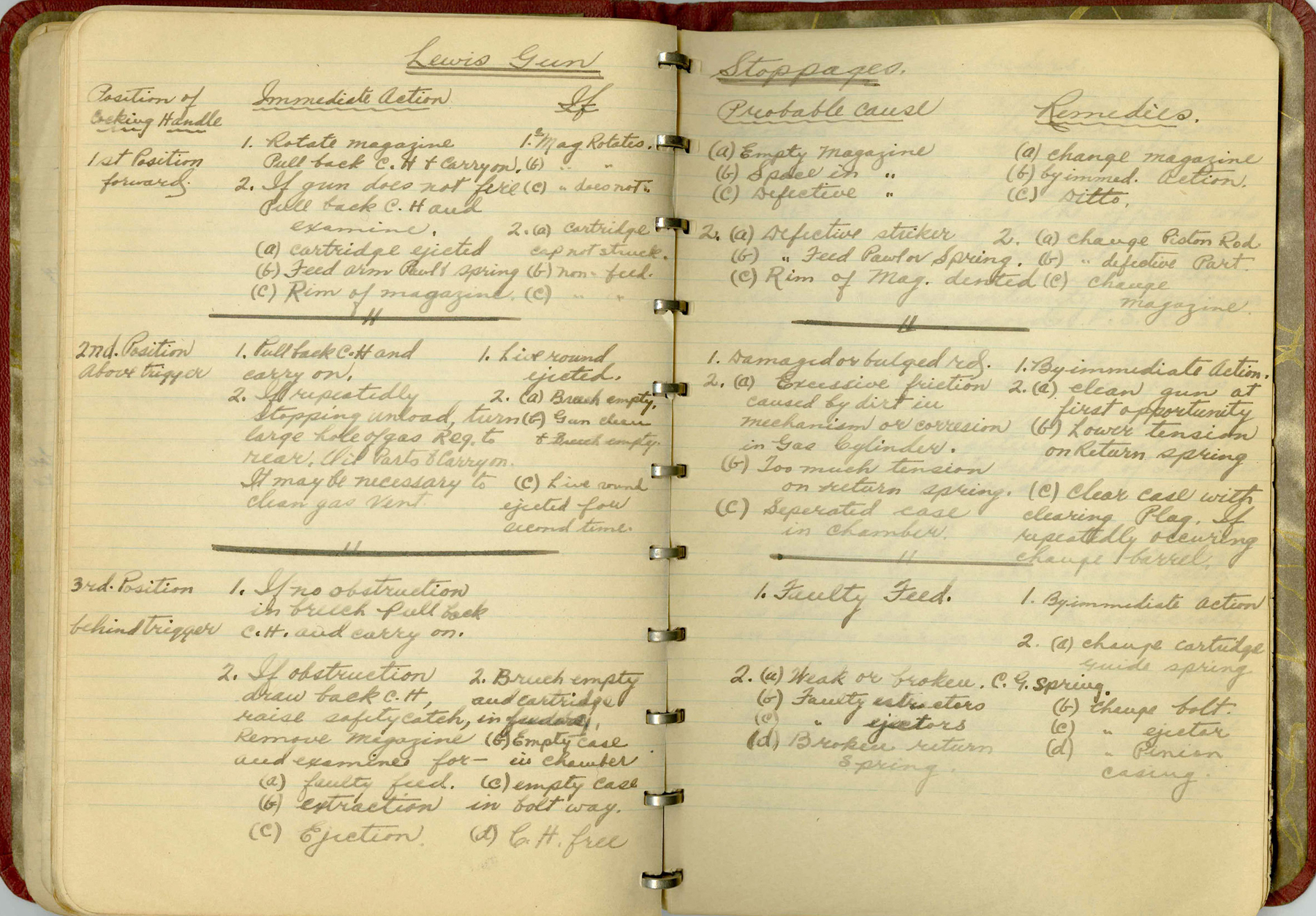 Preparing for Trench Raids
Regimental war diaries highlight casualties and wounded soldiers in numerical fashion, and Puley's style exhibits similar detachment. His focus on technology, skills, and operation rhetorically obscures the violence of the war. For example, his notes explaining the trench raids make no mention of the brutality typically involved in raids, focussing instead on the military objective, which is to "gain information, prisoners, identification, to destroy all dugouts and strong points and generally demoralize the enemy." These discussions also tend to objectify "the enemy" or "Boches," rhetorically minimizing their power.
When injury and death are discussed, Puley's journal highlights that lethal consequences are most often a result not of the gruesome realities of trench warfare, but rather of improper safety measures. There are three reasons that cause death during raids and gas attacks: "slackness," or inattentive approach of soldiers during training or duty; "carelessness," such as not checking protective equipment for defects or being unaware of properties of gas; and "accident," such as unforeseen hits or damages from enemies. The relevant section is titled "Casualties, Causes of"—the index-like style of the title being another instance of his bookkeeping experience slipping into his journal.
Having witnessed the brutality of the trenches over several years, Puley's recorded lesson plans do not transfer his experience through personal details. Instead his notes offer preventive measures and unwavering certitude for new recruits in an attempt to boost morale and shield them from the war's uncertain realities. In the end, Puley's journal leaves a heightened sense of control for the reader and his recruits, which verges on jingoistic confidence: "If these measures are carried out properly there is nothing to fear from enemy attacks."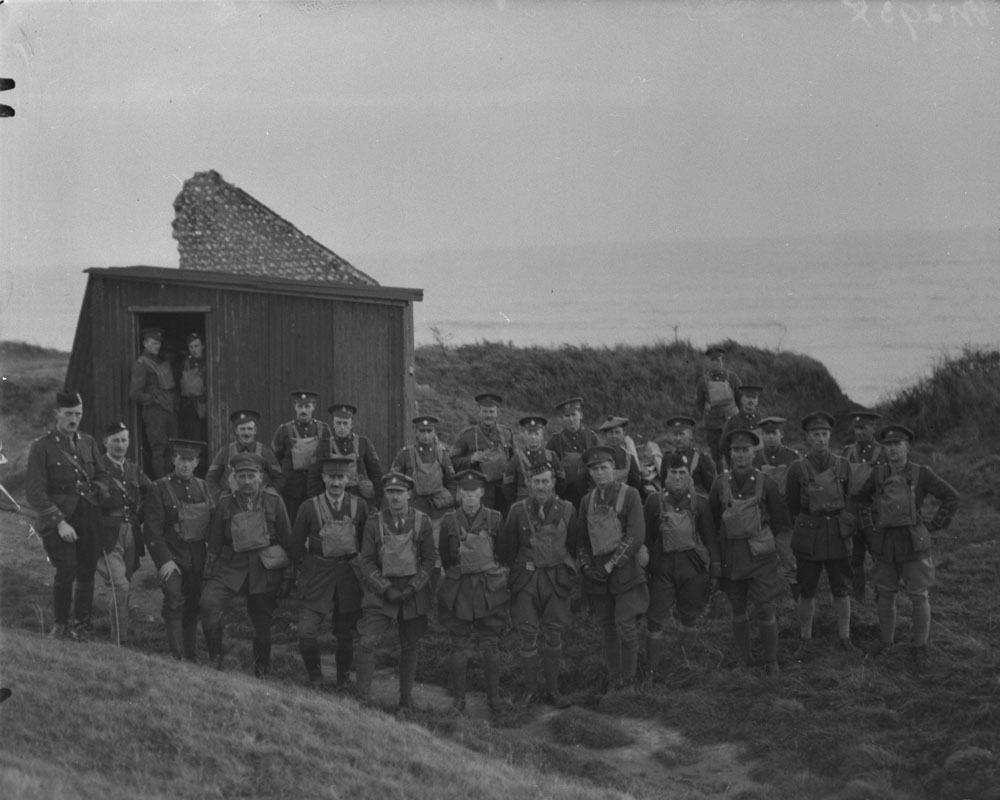 Biography
Born on 19 February 1892 in Fenelon Falls, Ontario, Percy Puley was the eldest of his 3 siblings. His parents were John Puley, a farmer, and Louise Puley. Puley enlisted as a volunteer in August 1914 before officially joining the 9th Battalion in September. On 5 December, 1916, Puley joined the Princess Patricia's Canadian Light Infantry, and was promoted to the rank of Lieutenant. By February 1918, Puley's long service and bouts of influenza, trench fever and mumps had taken their toll, leaving him with a diagnosis of debility.5 He transferred to Seaford in Sussex, England, where he was stationed for the remainder of the war, with short-term attachments to nearby training camps, including the Canadian Trench Warfare School in Bexhill-at-Sea. In December 1918 he departed for Toronto. That same month, he married Helen "Nellie" Mary Mathewson, a musician and co-writer of "When Jack Canuck Comes Marching Home" (1915). They would reside in Toronto with Helen's parents, and shortly after had two children, John and Elizabeth. Puley worked as a Senior Clerk for the Department of Attorney General until his retirement. He remained a member of the Princess Pat's Service Club until his death on 12 July 1953.
Percy M. Puley's journal is on permanent loan to the MLC Research Centre courtesy of the descendants of the Puley family.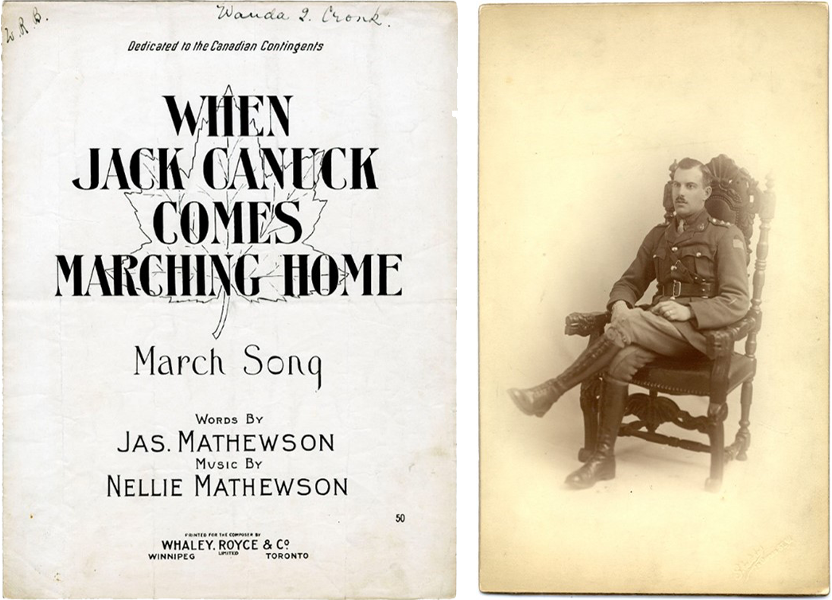 Reconstructed Contents Table of Diary
The reconstructed contents table reveals that Puley did not record lectures chronologically. He likely recorded standard lectures delivered at the Bexhill-on-Sea training camp. To what extent he helped in the shaping and delivering of these lectures remains unclear. The numbers in parentheses reference the page numbers in Puley's journal.
Anti-Gas Course, Seaford Area, 22 July 1918 (1-12)
Gas Course, Canadian Trench Warfare School, 27 July 1918 [stamped 9 August 1918] (13-61)
Lecture no. 2, Food Supply (63-75)
Lecture no. 13, Lewis Gun (77-87)
Operation Orders (89-90)
A Company Operation Orders, 17 June 1918 (91-97)
Narrative of Raid, 17-18 June 1918 (99-101)
Military Law (103-104)
Lecture no. 14, Working on Light Railways (105-109)
Lecture no. 19, Raids (111-117)
Lecture no. 20, Ranging (119-122)
Adamson, Agar. Letters of Agar Adamson, 1914 to 1919, Lieutenant Colonel, Princess Patricia's Canadian Light Infantry. Canadian Expeditionary Force Books, 1997.
Hodder-Williams, Ralph. Princess Patricia's Canadian Light Infantry, 1914-1919, vol. I. Hodder and Stroughton Ltd., 1923.
"Records of Lt. Percy M. Puley." Personnel Records of the First World War. Library and Archives Canada, Ottawa, RG 150, Box 8017, file 59.
Skennerton, Ian. .303 Lewis Machine Gun. Arms & Militaria Press, 2001.
1. Bexhill-on-Sea, Sussex. Twelve Image Pull-out.
2. Lt. Percy M. Puley, diary entry dated 27 July 1918 with Canadian Trench Warfare School crest dated 9 August 1918, pp 30-31. Modern Literature and Culture Research Centre.
3. Lt. Percy M. Puley, ca. 1914–18. Black and white photograph, Princess Patricia's Canadian Light Infantry (PPCLI) Regimental Museum and Archives.
4. Lt. Percy M. Puley, diary entry dated 17 June 1918, pp 90-91. Modern Literature and Culture Research Centre.
5. Lt. Percy M. Puley, undated diary entry, pp 86-87. Modern Literature and Culture Research Centre.
6. Bexhill-at-Sea showing the staff of the "School of Anti-Gas." It remains unclear if Percy Puley is among the group featured. Photograph 1914-1919. Library and Archives Canada.
7. Jas. Mathewson and Nellie Mathewson, "Jack Canuck." Sheet music, 1915. York University, Clara Thomas Archives and Special Collections.
8. Lt. Percy Puley wearing a wedding ring, [1918]. Princess Patricia's Canadian Light Infantry Archive, Edmonton.