Ruth Loggie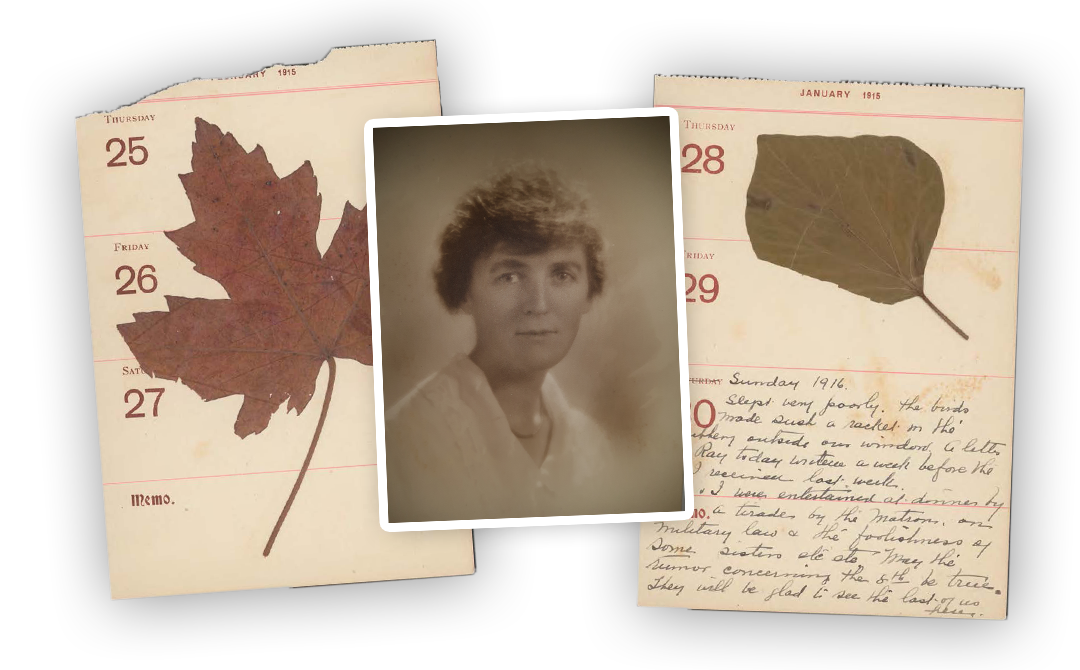 Hailing from Burnt Church, New Brunswick, Ruth Loggie (1883-1968) was a trained nurse who enlisted in the Canadian Army Medial Corps in Montreal in 1915. In her attestation papers, she described herself as a thirty-one year old single Graduate Nurse who stood 168 cm tall. Her ethnic and religious background was Scottish and Presbyterian. The portrait photograph shows her looking steadily at the camera. By August 1915, she served with the No. 3 Canadian General Hospital, in Étaples, in the Pas-de-Calais department in northern France. This was the so-called McGill Hospital, whose personnel had trained at McGill University where Ruth had earned her degrees, including graduate degrees. Her McGill friends at the hospital included Nursing Sister Clare Gass and the famous doctor-poet John McCrae. Loggie's diary becomes an arena for recalling these professional relationships and friendships during times of trauma. Her entry for 11 November 1915, for example, includes a copy of McCrae's poem "In Flanders Fields," which predates the publication of the poem in the magazine Punch by nearly a month, revealing the diary as a forum for the circulation of trench poetry that focuses on witnessing and community building.
Loggie's diaries span a year and a half, from May 1915 until November 1916, and like the Reverend William A. White and Nurse Edith Monture, Loggie reports tending to the wounded and witnessing the effects of war first-hand. Occasionally irreverent, Loggie's entries compel with their direct and frank tone. She also takes pleasure in the visual aesthetic of creating a diary by pressing flowers and leaves, memories collected from the French countryside and preserved in the pages of this First World War personal journal. Bound in a red leather cover, Loggie's diary consists of roughly 100 pages with lines and dates preprinted for daily entries.
After the war, Loggie continued to work as a Registered Nurse until her retirement in 1940. She died in Burnt Church on 4 October 1968 at the age of eighty-five. Her parents were Donald Loggie, born in Burnt Church, and Mary Jane Loggie, née Anderson.
Ruth Loggie's original diary is at the Provincial Archives of New Brunswick in Fredericton. An additional diary is owned by the Historical Society of Church River in Burnt Church, New Brunswick.
Diary of Ruth Loggie
---
Bibliography
Gammel, Irene. "'We are the Dead': Rhetoric, Community and The Making of John McCrae's Iconic War Poem," First World War Studies 9.1 (March 2018): 1-18.
Gass, Clare. The War Diary of Clare Gass, 1915-1918. Ed. Susan Mann. Montreal and Kingston: McGill-Queen's University Press, 2004.
Loggie, Ruth. A Canadian Nurse in the Great War: The Diaries of Ruth Loggie, 1915-1916. Ed. Ross N. Hebb. Halifax: Nimbus Publishing, 2021.
Loggie, Ruth. Registration of Death. Province of New Brunswick—Department of Health. Archives of the Government of New Brunswick.
Loggie, Ruth. The War Diary of Ruth Loggie, May 1916 to November 1916. Pencil on white paper with pressed leaves. Unpublished manuscript, 1 volume, 101 pages. Ruth Loggie fonds, Provincial Archives of New Brunswick, Fredericton, MC4183.