Sol Eisen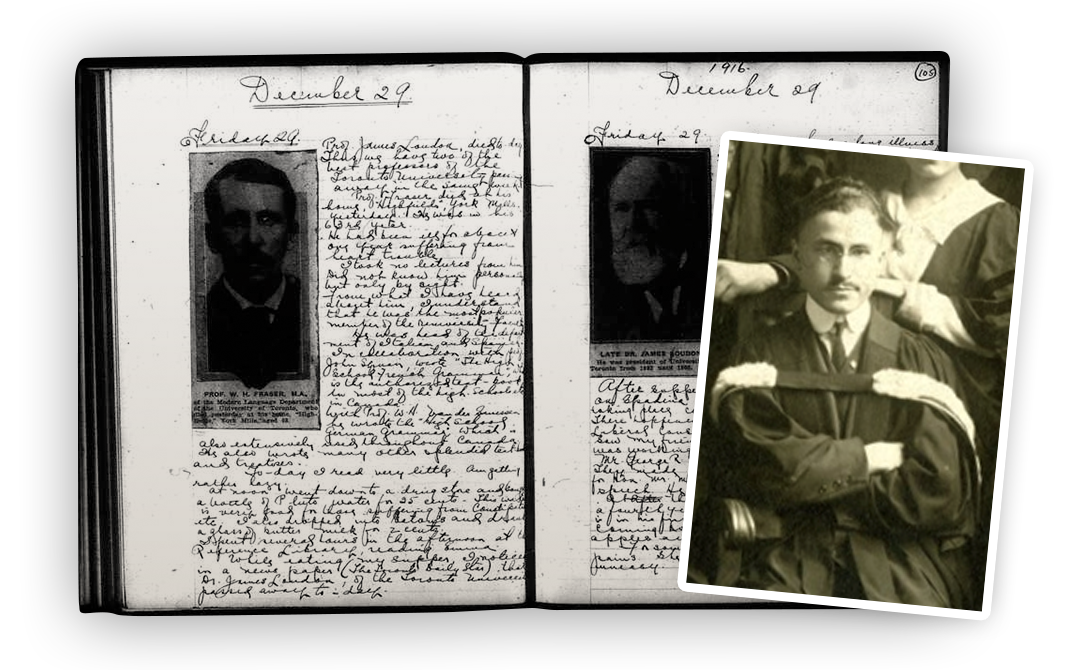 Polish-born Sol Eisen (1898-1974) was a literature student at the University of Toronto when he enrolled in the Canadian Officers' Training Corps after attending a lecture given by a military officer. Established at the beginning of the war, the Corps provided military training students for potential deployment in Europe, though Eisen never left the country and his experience of the First World War was on the home front in Toronto as he depicted in his diary. While Eisen's diaries span two World Wars from 1915 to 1943, the volume covering the years of the First World War, which is digitally reproduced and transcribed herein, consists of a single notebook with distinctive red leather covers and 328 lined pages.
Eisen's First World War diary stands out for its descriptive detail, depicting his day-to-day life as a student at the University of Toronto, immersing readers in the lectures he attended, his Jewish community, and the friends he encountered throughout his day, along with news about the war. Growing up in a family of six siblings, the son of Abraham and Nesha Eisen also gives insight into his family life, and his physical health. Domestic information is interspersed with entries recording drills and marching down the armouries, detailing the performative spectacle of the war. He completes assignments related to the war such as an essay on the topic "How does the war affect me." Taking courses in Ancient History, English, French, German, Hebrew, and Latin, Eisen offers a portrait of a studious and learned person for whom the intellectual pursuit had high value.
Eisen wrote his entries in pencil and later editorialized them by underlining the names of important people and places using a red pencil. One gets the sense that he wrote for a future audience explaining his development, his journey through his studies during war time. Sometimes there are months-long gaps, which he explains as being caused by the war, or simply by having been "lazy."
Sol Eisen graduated from the University of Toronto in 1918, pursued a post-graduate degree at Harvard University in 1919, and completed his law studies at Osgoode Hall Law School in 1921. He practiced law in Toronto and was a collector of Canadiana.
Sol Eisen's diaries are at the Ontario Jewish Archives.
Diary of Sol Eisen
---
Bibliography
Eisen, Sol. Diary of Sol Eisen. ca. 1915–18. Black and red ink on white lined paper. Unpublished manuscript, 1 volume, 329 pp. Ontario Jewish Archives, North York,
2010-7-3.
McGeer, Eric. Varsity's Soldiers: The University of Toronto Contingent of the Canadian Officers' Training Corps, 1914–1968. Toronto: University of Toronto Press, 2019.