The Story of Two Army Nurses in Lorraine: Agnes Swift and Edith Anderson Monture
---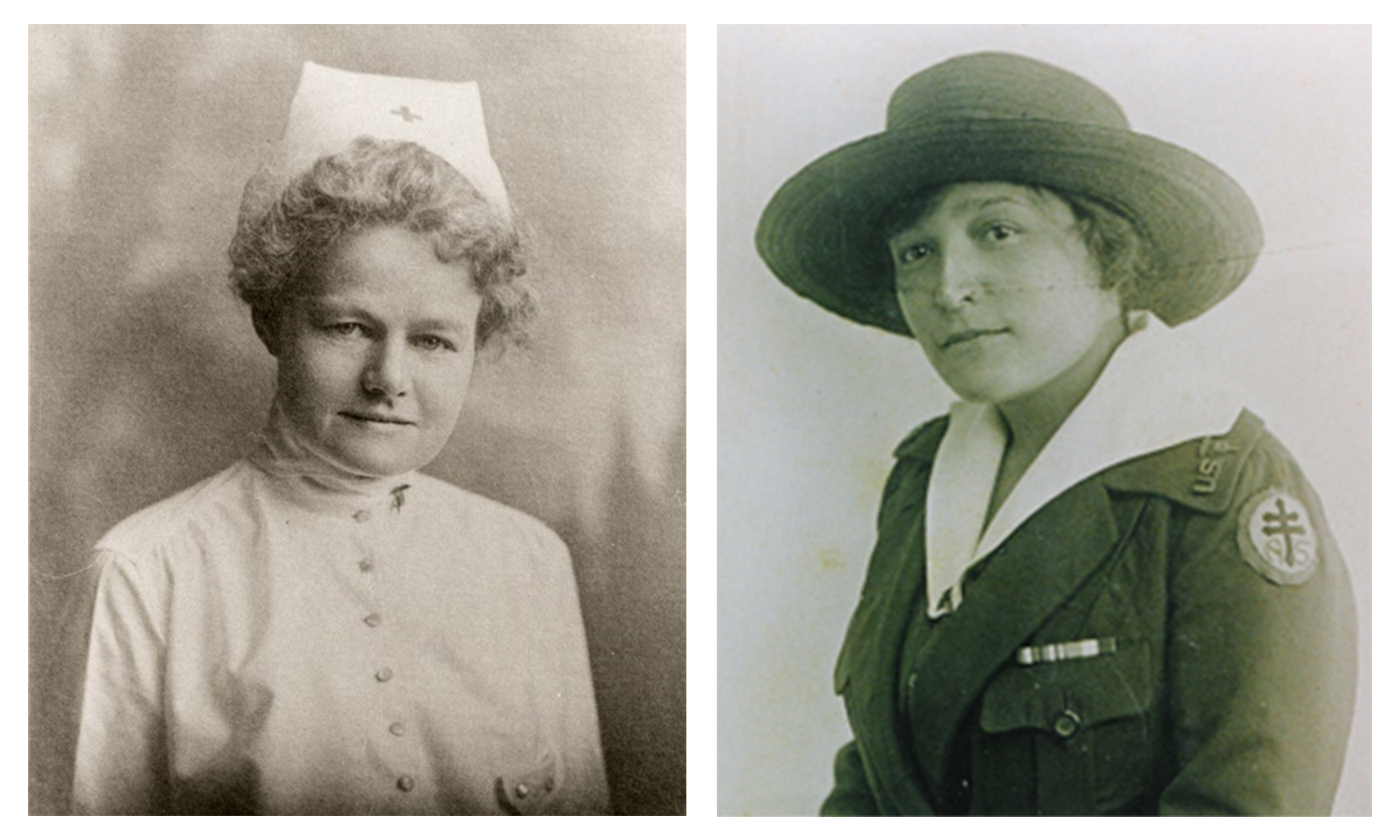 Left: Agnes L. Swift; Right: Edith Anderson
---
Charleston, Illinois
Among the many diaries featured on the Operation Canada website, I was immediately drawn to the diary of Edith Anderson Monture (1890-1996). Born and raised on the Six Nations reserve in Ontario, this proud Mohawk woman was determined to escape discrimination in her home province by training in New York as a Red Cross nurse before serving in the American Armed Forces. I was intrigued because Edith's story intersects with that of my great aunt Agnes L. Swift (1880-1923), a nurse from Washington, Iowa, who served alongside Edith in the Lorraine region in northeastern France from 1918 to 1919. Even though the two women worked in different hospitals, Agnes's story provides contextual insight into the life and writing of Edith Anderson, illuminating her military surroundings, the people she interacted with, and the pressures she encountered.
During the war years, the American Red Cross enrolled 23,822 nurses, and the majority of these (19,931) were assigned to active duty with the Army, Navy, U.S. Public Health Service and Red Cross overseas. In 1918, at the age of 37, my great aunt Agnes was assigned to Base Hospital 32 in Contrexéville, while 28-year-old Edith Anderson was attached to Base Hospital 23 in Vittel. Edith was recruited to Unit B, a hospital unit organized by Westchester County Associated Hospitals in Yonkers, NY, under the direction of Samuel E. Getty, M.D. and head nurse Rachel Benham of New York City.1 Unit B was attached to Base Hospital 23, a Red Cross hospital organized by the General Hospital of Buffalo, NY, under command of Colonel Guy V. Rukke.2 From mid-December 1917, Base Hospital 23 had their permanent base in Vittel located in the French Vosges (Lorraine) region renowned for its mineral water. There, they occupied 21 buildings in the resort village – hotels, villas, garages – and began the process of preparing them for use under the standards of the American Expeditionary Forces (AEF).3
Service in one of the "lettered units" attached to an established base hospital typically brought some unique challenges, including strict military, class, and ethnic hierarchies. In their personal writings, nurses like my great aunt Agnes wondered if they were going to "fit in," especially when they arrived at the base hospitals months after their colleagues from a larger unit. In a similar vein, Edith mused prior to embarkation, on January 24, 1918: "Nurses in Red Cross uniforms were waiting for the boat, but they looked so important that I didn't dare speak to any of them."
Edith's unit departed New York on February 16, 1918, as she noted in her diary: "Left New York at 4 P.M. Wrote letters before ship left pier." One remarkable and moving piece of information I gleaned from Edith's journal is that she crossed the Atlantic at the same time – on the same vessel, the SS Carmania – as my great aunt. Several of the "lettered units" of the medical corps traveled together. It is interesting to compare Edith's descriptions with the information I have from my great aunt's letters. For example, Agnes noted in her March 24, 1918 letter to her parents about the train ride, "Enroute across France we passed so many graves of French soldiers," which moved her profoundly. "Everybody choked up instantly." Edith, who had reached Vittel on March 10,4 dated the arrival in her diary and noted: "Beautiful day. We reached our destination (Vittel) at 12 noon. We were the last unit to get off the train. Nurses and soldiers were at the depot to welcome us." Edith greatly enjoyed her first bath: "Water never felt so good, for we were all grimy."
Vittel in the French Lorraine Region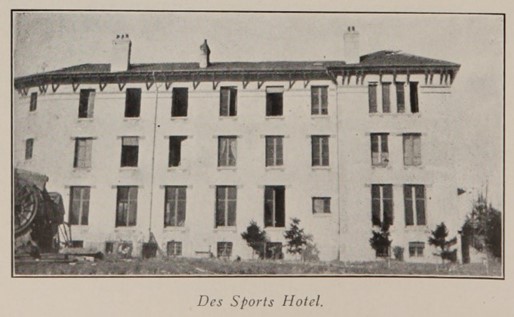 Vittel and the nearby town of Contrexéville offered several benefits to the AEF medical services. Each town was an established spa town, with dozens of large hotels which – before the war – had served patrons from France and across Europe who had come to enjoy the natural spring waters.5 Base Hospital 23 was augmented by Unit B (Edith's unit, organized in Yonkers), but Base Hospital 36 arrived in Vittel already staffed for a 1,000-bed hospital. It was the first AEF 1,000-bed hospital to arrive in France staffed at those levels.6 Their planned capacity of 1,000 beds was again increased to 1,250 beds or more before they ever received any casualties, and during the St. Mihiel drive, the hospitals were asked to expand to an "emergency capacity" of 1,900 to 2,000 beds. The unit histories of the Vittel-Contrexéville hospitals provide vivid detail of this period when the hospitals and their personnel were strained to the breaking point. At the beginning of August 1918, the base hospitals assumed the role of evacuation hospitals, receiving wounded directly from the battlefield. The unit history of Base Hospital 36 in Vittel notes that during this time they were performing 300 surgeries a day. They functioned at this level until the Armistice.
On Hospital Duty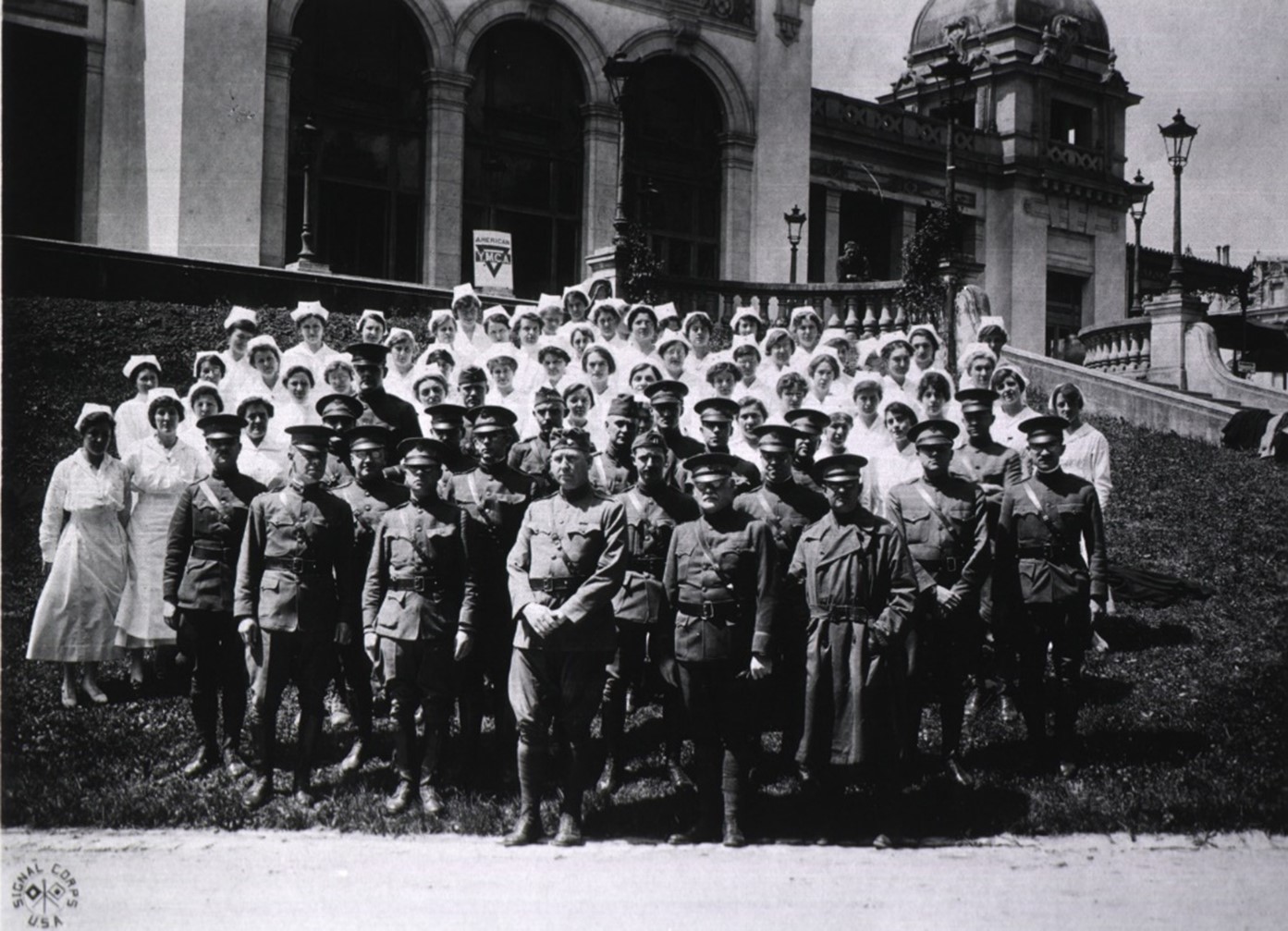 The nurses serving with the base hospitals in the Vittel-Contrexéville center talked about their duties in their personal diaries and their letters home. Agnes worked mainly with eye injuries and had the difficult task of comforting patients when they realized they were going blind. Edith's diary clocks in the dates and times when she is "on duty," while also providing occasional specifics, such as making beds, or more daunting tasks, as she records on Thursday, June 6: "Had a busy day to-day and went on night duty. Had fifty-seven patients and three German prisoners to take care of." Or on July 20: "On duty in Op[eration] room in A.M." They also record poignant encounters with the local French population. An Iowa newspaper summarized a letter from Agnes: "She said they were out walking one afternoon, and saw some little French children playing. They had made a trench, and at the side had dug a grave, over which they had placed a cross. They were playing they were caring for an American blesse (wounded soldier), and their grief was very real. That is the sort of play the children have over there."7 Other entries are concerned with the professional lines of command, discussing questions of authority arising because each lettered unit had its own head nurse, while members also worked under the command of the head nurse of the base hospital as well as the officer in charge of the base hospital. There was also occasional tension; units organized from a smaller town or a rural region, such as the nurses of Unit R coming from southeastern Iowa, were sometimes teased about being "country girls."8
In addition, the base hospitals were called upon to provide teams for detached service to evacuation hospitals or field hospitals, where the need for medical personnel was even more desperate. For example, in an undated entry written after the Armistice, Edith mentions her detached service which takes her to Toul, another hospital center in the Advance Sector. Records show that Edith served with Base Hospital 87 at Toul, some 70 kilometers away from Vittel, from sometime after the Armistice until to February 16, 1919, when she was recalled to Vittel to prepare for demobilization of Base Hospital 23 and the trip home. It was likely during her detached service at Toul when Edith visited the battlefield near Barricourt, where the 89th Division captured the village on November 3, 1918, in the great Battle of Meuse-Argonne, one of the largest and deadliest in United States history, involving over a million American soldiers.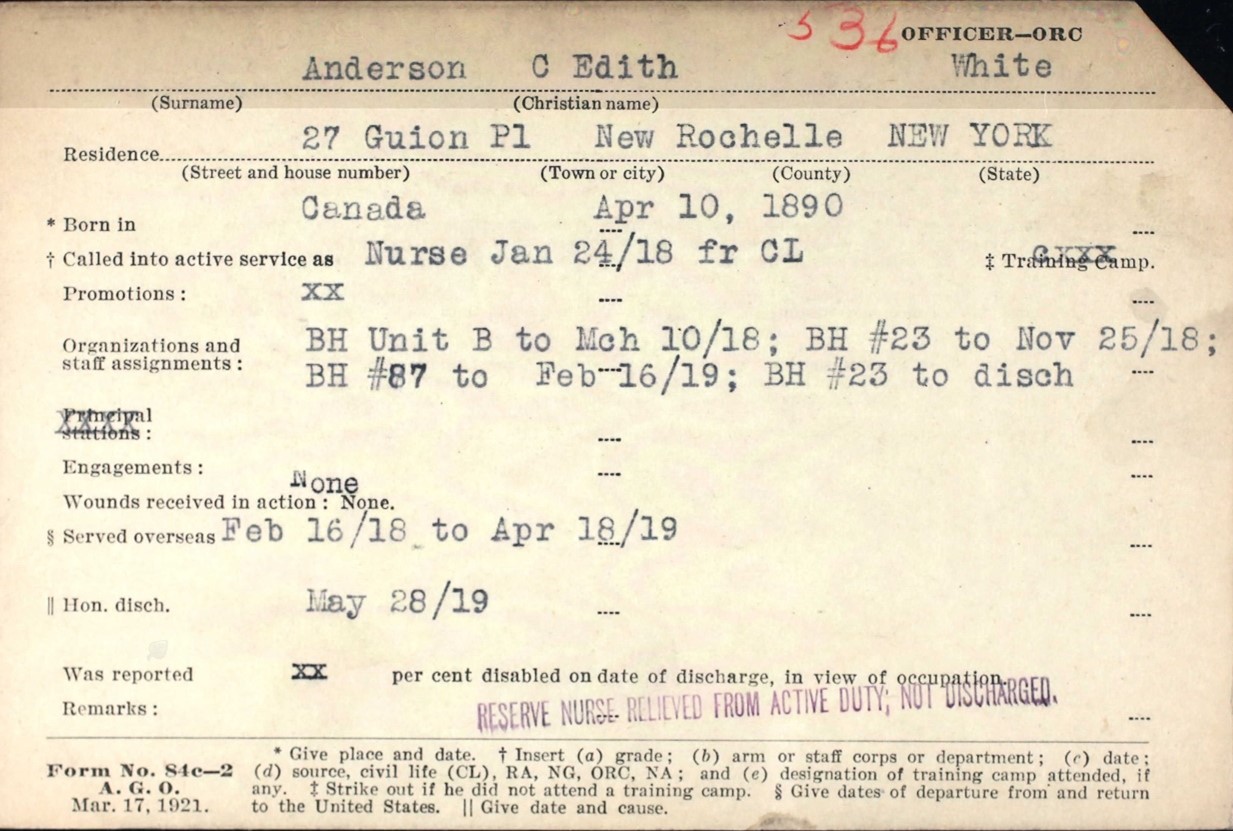 By February 6, 1919, when Base Hospital 23 officially closed its doors and transferred its remaining patients to a hospital center at Bazoilles, they had cared for 11,625 surgical and medical cases. Agnes returned to New York in March 22, 1919. On March 13, Edith left Vittel with other personnel from Unit B and Base Hospital 23, bound for home. It was not until April 8 that she boarded SS Kaiserin Augusta Victoria leaving Brest, France and landing at Hoboken, New Jersey, on April 17. In her own words: "Returned to Vittel then home sailed from Brest on Kaiserin Augusta Victoria."
Postwar Life
Edith had a large family and died a week before her 106th birthday in 1996. She was buried on Six Nations Reserve near Brantford, Ontario. Agnes Swift died just a few years after completing her war service, on 14 July 1923. She laid to rest with full military honors in Elm Grove Cemetery in Washington, Iowa, on her 43rd birthday.
Endnotes
All diary quotations from Edith Anderson are taken from our Operation Canada website transcriptions. The diary can be viewed here.
Letters of Agnes Swift, Unit R, Base Hospital 32, unpublished. Sister Joan Bailey Private Collection, in care of Ralph Roesler, Katy, Texas.
"Major S. Getty's Work Over There," The Yonkers Statesman, March 11, 1919.
"Major Getty, In Talk, Says Unit May Be Back in Month," The Yonkers Herald, February 27, 1919.
Image 1: Agnes L. Swift, army nurse, photograph, ~ 1918-1919. Sister Joan Bailey Private Collection; Edith Anderson Monture, Photograph, circa 1918-1919. Descendants of Edith Anderson Monture, Ontario.
Image 2: Hotel Salon, U.S. Army Base Hospital, Number 23, Vittel, France. Photoprint, [1918-1919]. The National Library of Medicine.
Image 3: BH 23, Vittel: A group of unidentified officers and nurses. One wonders if Edith is among them, as the nurse in the center of the group, her lower face partially obscured by the soldier's hat in front of her, has a strong likeness to Edith.
Image 4: Edith Anderson's discharge papers, dated May 28, 1919; digital image courtesy Molly Daniel.