Terminology
---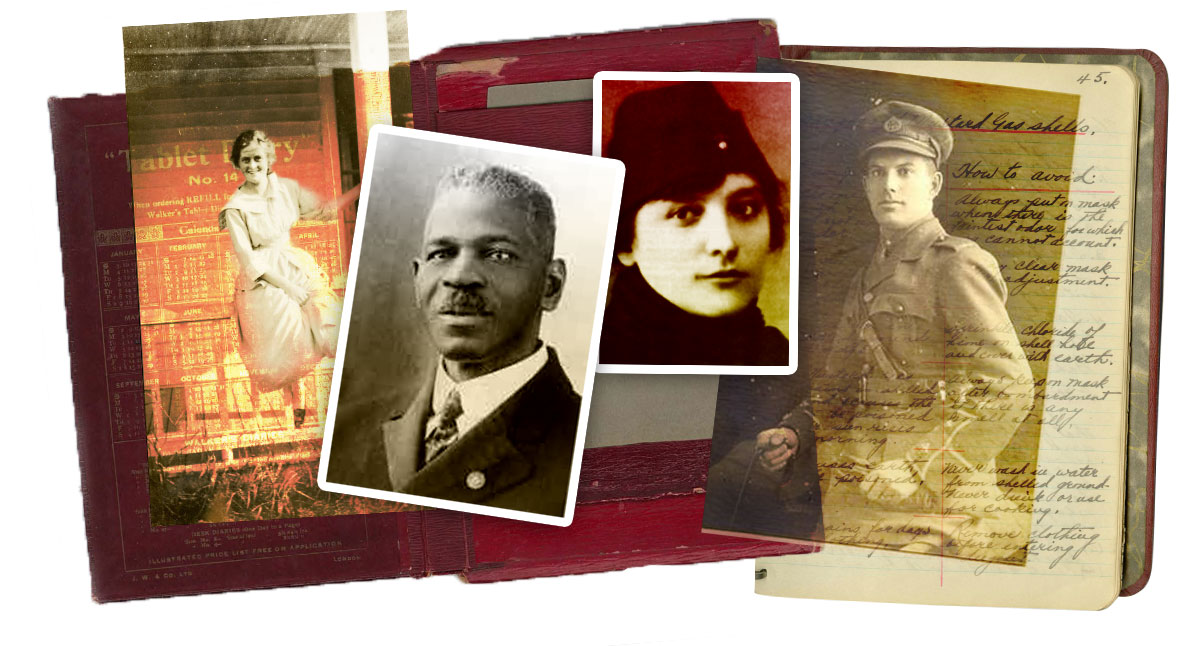 With the centenary of the First World War, a rush of new materials became accessible to the public and researchers alike, including the "war diaries" of Canada's regiments that are available on the Library and Archives Canada website. These official war diaries are the confidential daily regimental logs written by officers of 893 units. There is also an equally vast body of personal diaries written by soldiers and war workers overseas and by home-front workers across Canada. The Operation Canada Digital Project aims to revise the category of the Canadian war diary to include culturally diverse frontline soldiers, surgeons, nurses, orderlies, and chaplains who wrote personal war diaries, even though this practice was officially discouraged or prohibited in certain instances. Furthermore, the project includes culturally diverse writers who spent the war years on the home front and whose diaries depict war work in factories, farms, churches, women's institutes, the Red Cross, doctors' offices, and university campuses. Together, the diaries that are part of the Operation Canada Digital Project represent an important part of Canada's heritage. As a genre, however, the "unofficial" war diaries are largely untheorized. The Operation Canada Digital Project's intervention has opened up a new domain of study by revising the traditional narratives of Canada's role in and contributions to the First World War.
Official and Unofficial War Diaries
---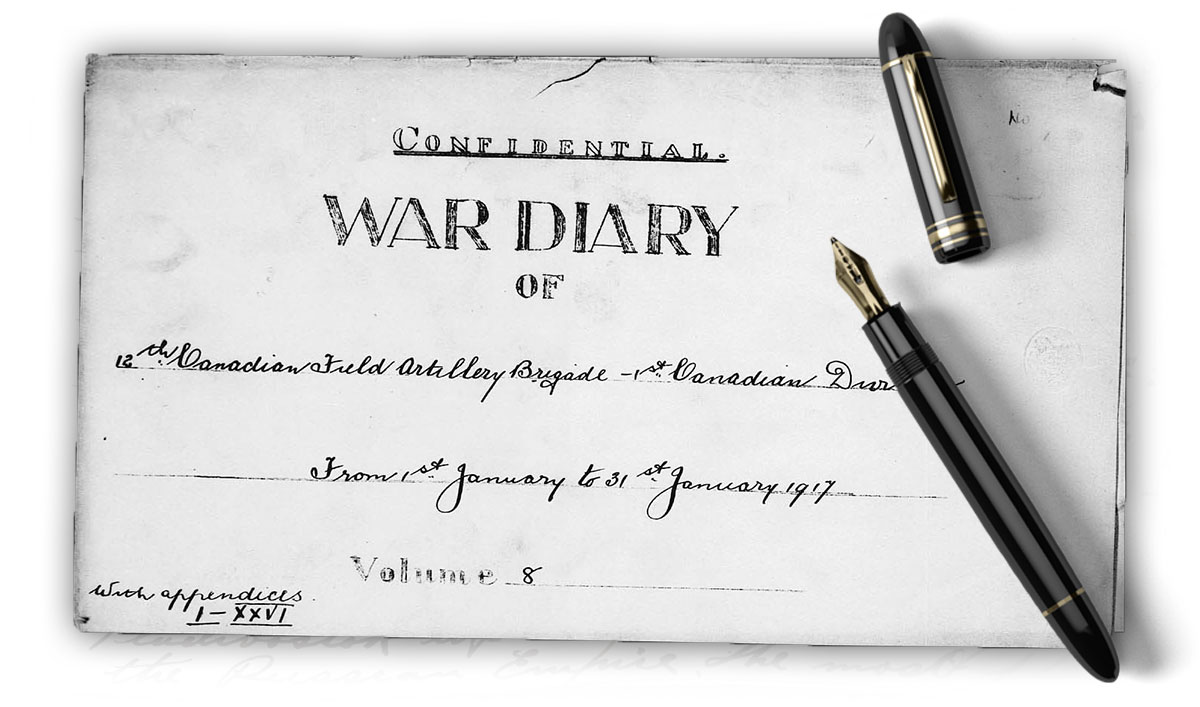 According to Library and Archives Canada, Canadian Expeditionary Force units "were required to maintain a daily account of their 'Actions in the Field.'" Each unit tasked an officer with writing these "war diaries," by hand or typewriter, which typically recorded the weather, location (either named or by coordinates), any movement made, and the action of the day. Library and Archives Canada has the largest collection of these "official" Canadian war diaries, with over 1,587 documents, of which 88% are available in digitized (though largely untranscribed) form.
The term "war diary" has long been used to describe only the officers' official regimental log, relegating all other diary writings into the category of personal writings. Consequently, diaries written by soldiers and war workers overseas and by home-front workers across Canada are not accounted for and only a fraction have been digitized. This limiting and arbitrary definition of the genre has been expanded in the Operation Canada Digital Project to include frontline soldiers, surgeons, nurses and orderlies, as well as writers at the home front whose diaries depict war work in factories, shipyards, farms, and the Red Cross. Together, these writings present a corpus that illuminates individual and collective transformations during the war, and offers insights into the omissions of the official narrative. This focus sheds new light on the roles of women, non-Anglophone minorities, and First Nations peoples who are hidden by traditional war narratives.
By including this range of personal war diary writings — from overseas and at home, during the war and during post-Armistice reconstruction — this research revises the narratives of the First World War to identify the role of these diverse populations in the construction of our national identity. The Operation Canada Digital Project is particularly timely given the centenary of the First World War and the surge of diaries that have become available.
Scholarly Theories and Questions
---
While there are some emerging studies of these war diaries (e.g., Hynes 1997), the field is large with no overarching theory of the war diary that comprises war and home front texts. In 1929, French historian Jean Norton Cru established the idea of "témoignage" as a framework for analysis of texts produced during the First World War for the works written by combatants, an approach since expanded by Leonard Smith (2007), who argues that first-hand testimonies of French soldiers create "an embattled self." Michel Litalien's Écrire sa guerre (2011) collects and critically considers the First World War "témoignages" of francophone Canadian soldiers, including their diaries, noting that "Les témoignages écrits en français existent donc bel et bien, en quantité et en qualité" (23).
Marguerite Helmers has noted that "the diary is narratively, linguistically, and rhetorically rich as a document while it also raises questions about the unstable nature of the 'I' who narrates" (2014: n.p.). The diary's encoding of relational identity prompts questions about its various addressee – whether, like a regular diary, it addresses a "future self" (Lejeune 2009: 194) or a "sympathetic" audience (Culley 1998: 217) such as fellow soldiers or family, or some other imagined, even hostile, audience altogether. What are the gendered dimensions of these war diaries? How do censorship and self-censorship affect such personal writings during war time? What is the role of aesthetics and how were diaries reshaped by authors after the war?
Soldiers' Pocket Diaries
---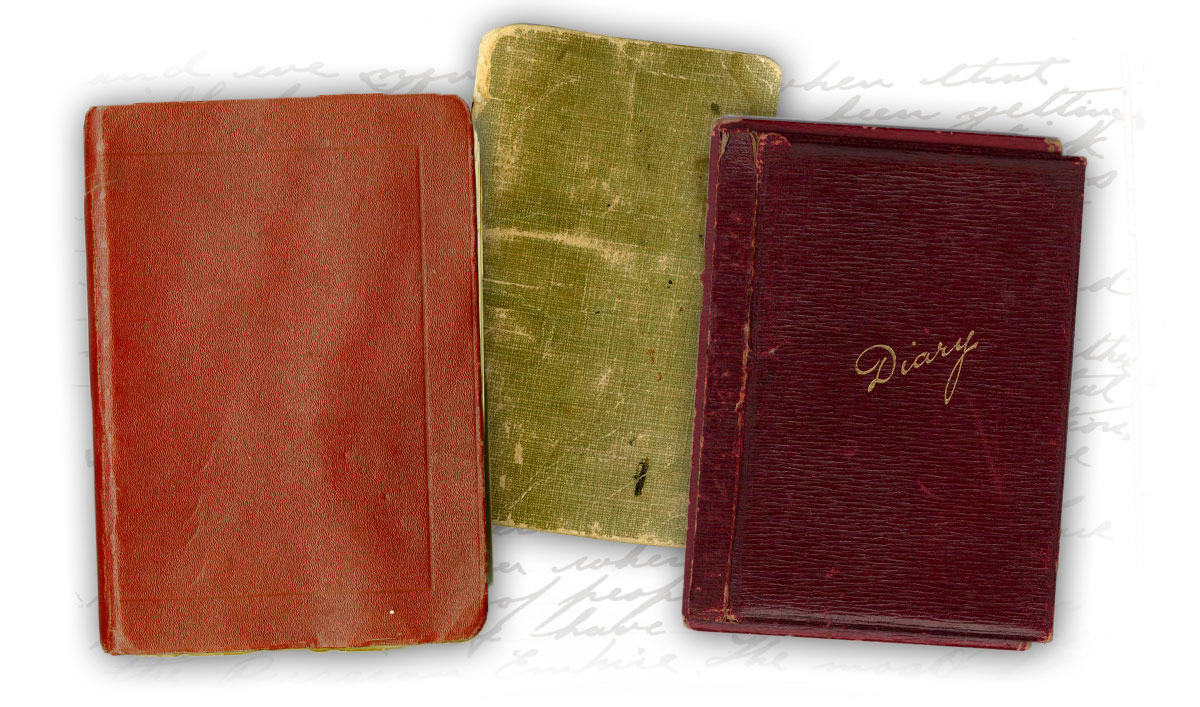 The Operation Canada Digital Project considers specifically the Canadian corpus. Many frontline diaries were pocked-sized notebooks, which were deposited with friends and family by soldiers on leave. Carried close to the body, they were the repositories for the writers' experiences, long used as raw material for other studies or more literary works but not studied in their own right. Letter writing, though subject to military censorship (Bourke 1996), was encouraged to reassure the public at home of the safety and happiness of loved ones at the front. The military forbade the writing of "personal" diaries (Peterson 2001: 926), which could be a dangerous liability if they fell into the hands of the enemy. These diaries record immediate responses through the lens of diverse witnesses at the frontlines and the home front, and so provide a more complete picture of the war's social panorama; despite this, they have so far been mostly neglected in archives.
Diaries behind the Front-Lines
---
Diaries behind the Front-Lines include the writings of doctors, nurses, and chaplains. They include the hitherto unpublished diary of Ruth Loggie, a nurse from New Brunswick who served in northern France, as well as such as the unpublished diaries of Rev. William White, a Black Canadian chaplain, who wrote his diary from 1917 to 1918. In these and other examples, readers will be able to discern concrete and oblique expressions of trauma across culturally diverse texts.
Home-front Diaries
---
Home-front diaries were written by both women and men with a focus on urban and rural accounts. The diaries illuminate the civilian experience of the war through home front perspectives, inscribing both trauma and patriotism along with minority writers' hope for integration and franchisement through involvement in the war. Only recently have the experiences of home-front workers (Morin-Pelletier 2014; 2006; Adie 2013; Glassford and Shaw 2012), non-combatant women and disabled, old or underage men, as well as immigrants, foreign nationals, and thousands of perceived enemy aliens (Kordan 2002), begun to be recognized in Canada.
Post-Armistice Diaries
---
Post-Armistice Diaries capture the often traumatic experiences of the immediate post-war workers. Soldiers, notably cultural minorities such as Chinese war workers, took on the grisly job of exhuming thousands of bodies and reburying them in proper graves. Artists travelled overseas in order to record the war traumatized landscape. Moreover, even after the Armistice, some warfare continued such as the Siberian Expedition which Allied forces fought in Russia in order to suppress the Russian Revolution. Post-Armistice Diaries also include the underexplored diary writings concerning the Spanish Flu pandemic which cost the lives of fifty million people worldwide from 1918 to 1920.
Diaries as Material Objects
---
As ephemera that survived the war in or close to the frontline, soldiers' diaries are physical objects that tell stories. Whichever the format, the pages speak of the conditions in which the writer penned the entries — exhibiting tattered edges, smudges, faint ink, and rubbing out of a pencil. These books often include ephemera such as newspaper clippings, photographs, sketches, and drawings, and this project is also concerned with these visual elements. What is the relationship between the written and visual text? Sometime both amplify and contradict each other, and sometimes the visual may carry information not provided in written form.
Through the lens of the war diary, the Operation Canada Digital Project ultimately strives to reshape twenty-first century understanding of the First World War by highlighting the contributions of combatants and non-combatants alike and by including minorities such as Indigenous diarists and people of different races, faiths, ethnicities, genders, ages, languages, and regions.
Become Involved
We would like to hear from anyone who has family diaries from the First World War and is interested in having them included in this project. Please contact us at admin@mlc.ryerson.ca.
Adie, Kate. (2013). Fighting on the Home Front: The Legacy of Women in World War One. London: Hodder & Stoughton.
Bourke, Joanna. (1996). Dismembering the Male: Men's Bodies, Britain, and the Great War. Chicago: University of Chicago Press.
Cru, Jean Norton. (1929). Témoins: Essai d'analyse et de critique des souvenirs de combattants édités en français de 1915 à 1928. Paris: Les Étincelles.
Culley, Margo. (1998). "Introduction to A Day at a Time: Diary Literature of American Women, from 1764 to 1985." In Sidonie Smith and Julia Watson (Eds.), Women Autobiography, Theory: A Reader (217-21). Madison: University of Wisconsin Press.
Glassford, Sarah and Amy Shaw (Eds.). (2012). A Sisterhood of Suffering and Service: Women and Girls of Canada and Newfoundland During the First World War. Vancouver: UBC Press.
Helmers, Marguerite. (2014b). "War Diaries and the Rhetoric of Banal Nationalism." Languages and the First World War. British Library, London, England (June).
Hynes, Samuel. (1997). The Soldiers' Tale: Bearing Witness to Modern War. New York: Penguin.
Kordan, Bohdan H. (2002). Enemy Aliens, Prisoners of War: Internment in Canada during the Great War. Montreal and Kingston: McGill-Queen's University Press.
Lejeune, Philippe. (2009). On Diary. Ed. Jeremy D. Popkin & Julie Rak. Trans. Katherine Durnin. Hawai'i: University of Hawai'i Press.
Litalien, Michel. Écrire sa guerre: Témoignages de soldats canadiens-français 1914-1919. Outremont: Athéna éditions, 2011.
Morin-Pelletier, Mélanie. (2014). "'The Anxious Waiting Ones at Home': Deux familles canadiennes plongées dans le tourment de la Grande Guerre." Histoire Sociale / Social History 47(94), 353-368.
Morin-Pelletier, Mélanie. (2006). Briser les ailes de l'ange: les infirmières militaires canadiennes, 1914-1918.Montréal, Athéna éditions.
Peterson, Andrea. (2001). "War Diaries and Journals." In Margaretta Jolly (Ed.), Encyclopedia of Life Writing: Autobiographical and Biographical Forms (925-26). London: Fitzroy Dearborn.
Smith, Leonard V. (2007). The Embattled Self: French Soldiers' Testimony of the Great War. Ithaca: Cornell UP.