A Vancouver Diarist in the London War Office
---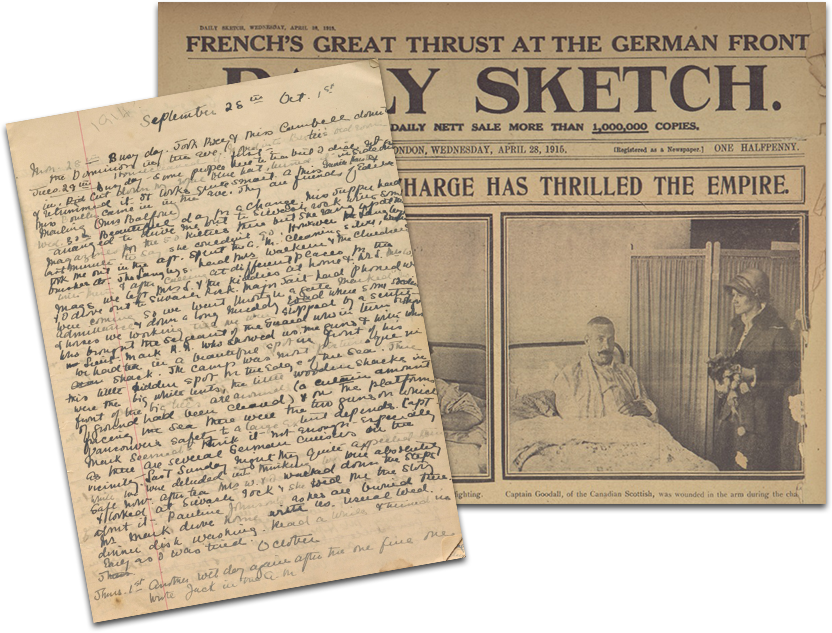 ---
Thomas Fisher Rare Book Library
On 28 September 1914 in Vancouver, Edith Lydia Louise Leckie (1878-1976) started a new diary. War had been declared 55 days earlier, and Edith Leckie took to the pages to describe the momentous changes underway. Dedicated to the patriotism of the home front, she recorded knitting, attending fundraisers, and seeing off friends and family members. Her older brothers, Robert "Bertie" Leckie, age 44, and John "Jack" Leckie, age 41, enlisted with the 16th Canadian Scottish Battalion and the Seaforth Highlanders Battalion respectively.1 As Edith wrote on 26 October 1914: "Almost every man we know is going now. Felt quite weepy all day."
Upon declaration of war, Edith Leckie offered her services as a nurse with hopes to be permitted to travel overseas. This was a bold choice for a 35-year-old unmarried society woman, with no medical training, highlighting her conviction to participate in the war effort in a real and tangible way. Approval to travel overseas arrived on 4 December 1914 in the form of a telegram, what she called in her diary "too good a chance to miss." Leckie's diary accounts present a valuable and unique record of civilian war work and of one woman's experience in the early years of the war when she became a war office worker in London, England.
The Diary
Diary writing was a lifelong habit for Edith Leckie but only a single volume of her personal war diary is extant at the Thomas Fisher Rare Book Library in Toronto. Dating from 28 September 1914 to 1 September 1915, it records her traveling from Vancouver to England and her first seven months as a war worker in London.2 Her neatly dated and tightly written diary pages give insight into her feelings, when many war diaries are emotionally distant. For example, when crossing the Atlantic on 4 March 1915 aboard the S.S. Sicilian, two months before the sinking of the Lusitania, she records the tension. "The captain seemed very worried at dinner and most feel tense anxious." She observes that when passengers went to bed at night, they had their life vests in hand in case of accidents. Upon arrival in London, she was confronted with the reality that the Blue Cross had too many applications for nurses, and so she made the difficult decision to give up nursing to accept a position in the Canadian Separation Allowance office, processing government payments for the dependants of servicemen. In her own words, on 23 March 1915, she was spending her days "sending off cheques to soldiers wives – a noble deed."
Perhaps most fascinating about Leckie's war diary is her access to and sharing of war information through news gathered directly at the war office. In 1915, recording privileged information on the efforts of the Canadians at the Second Battle of Ypres, she wrote: "Felt very smug. The Canadians have been in the thick of fighting + made a splendid charge. Saved the day after French had been driven back by poisonous gas fumes." The true horror and human cost of the battle came the next day, as she wrote on 26 April 1915: "Had a terrible morning at the office. Capt Dowling came to me with news of casualties of our regiment – every few minutes it seemed. […] I cried. Later he told me that Rae had been killed […]. I came home then because I could not stand it anymore." In fact, Lieutenant-Colonel William Rae, the commander of the Number 2 Company of the 16th Battalion, was the only colonel of the battalion to survive the gas attack. She was well acquainted with both him and his sister, detailing evenings spent knitting with his sister prior to her departure to England. In these scenes of sharing her emotional distress she provides readers with the personal dimensions and harrowing impact of the battle.

Witnessing in Hospitals
Her diary becomes an arena for documenting the effects of war through acts of witnessing. She reports frequently on visiting wounded Canadians from her brothers' regiments in the hospital, as on 27 April 1915: "I saw Capt Goodall (he has a hole the size of an egg in one arm) + Mr Gillial wounded in the foot. It was good to see them + I stayed a long time listening to their stories of the fight." This visit was memorialized on 28 April in The Daily Sketch, a British tabloid newspaper, which featured the only known wartime photograph of Edith Leckie. Showing a stylish woman with a cloche hat and flowers in her hand standing by the bedside of Capt. Goodall, the photograph's patriotic caption reads: "The Canadians' Charge Has Thrilled the Empire." In her diary she reports being busy writing during the evenings, providing family and friends with streams of observed news regarding the Vancouver regiments in addition to her regular correspondence with her two brothers and five sisters.
Edith's diary reflects the mood of London in the early war period in which reports on distractions and entertainment run parallel with accounts of anxiety and bad news that mark everyday life. On 4 June 1915, she writes: "[Miss Haddick] began teaching me the 'fox trot' the latest dance. Later we made respirators in case the Germans dropped poison bombs. There was an air raid here on Monday night – four children, a man + a woman killed." Her entry on 4 August 1915 is especially poignant. "A year's war!," she exclaims and continues: "I wonder what it will be a year hence. All over I sincerely hope + Germany completely crushed." Ultimately, Leckie's war diary serves to situate her novel role and evolving perspective in this historical event. Within the diary's pages, she records her own war work, and provides first-hand accounts of the events affecting her brothers, friends, and acquaintances. Drawing on information gleaned from the war office, military officials, and visits with soldiers fresh from the battlefield, she chronicles intimate accounts of the war rarely made available to Canadian women.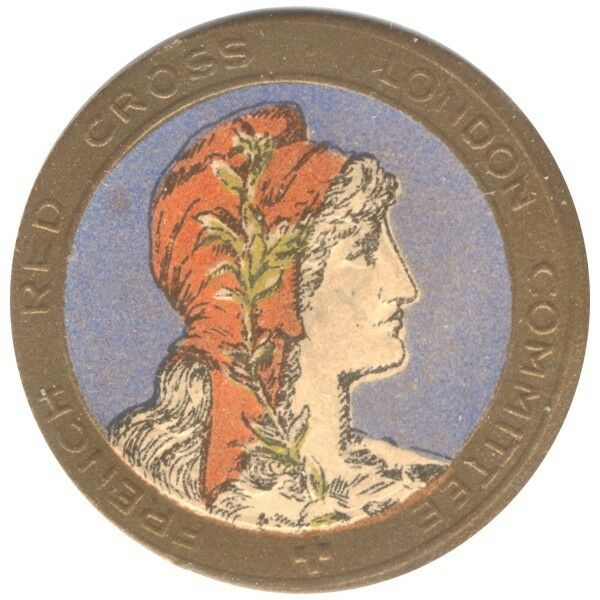 Though her diary stops in 1915, Edith Leckie continued her wartime activities on the Western Front. An article in The Montreal Gazette from May 1918 reported her stationed within twenty miles of the firing line in France, working at a canteen.3 A roll of those eligible for the British Victory medal lists Edith L.L. Leckie amongst its recipients. She had served with the British Committee of the French Red Cross, where she offered food, drink, entertainment and minor medical care to soldiers in France from April 1917 to November 1918.4
The Thomas Fisher Rare Book Library holds Edith Leckie's 1914-1915 diary as a part of the Partridge Family Papers, donated by Edith Leckie's niece in 2005. To access this war diary, click here.

Biography
Edith Leckie was the sixth child in a large and prosperous family of nine: two boys and seven girls. Her father, Robert Gilmour Leckie, a Scottish immigrant, was a well-known mining engineer, and census data reveals that he moved the family from coast to coast: Nova Scotia, Quebec, Ontario, and British Columbia.5 He had served as a Lieutenant in the Fenian Raids (1866-1871) and both his sons served as officers in the military prior to the war. Their mother, Sarah Edwards, died in 1893, when Edith was thirteen years old, and afterwards she developed a particularly close relationship with her sisters. By 1913, her father had died, and all her sisters, except a much younger half-sister, were married, leaving her as an independent and single woman looking for an adventure of her own. After the war, Leckie would never return to British Columbia, instead settling first in Nova Scotia and then in Ontario to be close to her sisters. She remained unmarried, working as a teacher and a librarian. She died in 1976 at the age of 97.
Endnotes
All diary quotations are taken from Edith Leckie's 1914-1915 diary. Thomas Fisher Rare Book Library, MS Coll. 462, Box 15. The original diary can be viewed here.
Antoinette. "Causerie de Paris." The Montreal Gazette, 29 May 1918, 3.
"The Late Major R.G Leckie." Bulletin of the Canadian Mining Institute 23 (January 1914): 17-19.
Partridge Family Papers. Thomas Fisher Rare Book Library, Toronto, MS Coll. 462.
Records of Col. John Leckie and Maj. Robert Leckie. Personnel Records of the First World War. Library and Archives Canada, Ottawa, RG 150, Box 5508, file 20 and Box 5508, file 12.
War Office and Air Ministry: Service Medal and Award Rolls, First World War. The National Archives, Richmond, UK, WO329: B48.
1. Edith Leckie, entry of 28 September-1 October 1914. Thomas Fisher Rare Book Library, Toronto.
2. Cover of The Daily Sketch with photograph of Edith Leckie and Capt. Goodall, 28 April 1915. World Digital Library.
3. Edith Leckie, entry of 5-6 March 1915 while crossing the Atlantic. Thomas Fisher Rare Book Library, Toronto.
4. Poster for Soldiers' Separation Allowances, 1915. Lithograph on wove paper, 81.4 x 54.7 cm. Library and Archives Canada, Ottawa, Acc. No. R1300-37.
5. Cover of The Daily Sketch with photograph of Edith Leckie and Capt. Goodall, 28 April 1915. World Digital Library.
6. Brig.-Gen. Robert "Bertie" Gilmour Edwards Leckie, 72nd Seaforth Highlanders, Album Dr. Leitch, via Geni Photos in Photos of Brig.-Gen. Robert Gilmour Edwards Leckie, 72nd Seaforth Highlanders.
7. British Committee of the French Red Cross. Mosbaugh's Red Cross cat., Great Britain #235C.3; 1915, via EBay 1915 French Red Cross - London Committee.
8. Photograph of King George V's inspection of the 16th Battalion (Canadian Scottish), November 1914. Thomas Fisher Rare Book Library, Toronto. Edith Leckie would write about receiving this photograph in her diary: "Had letters from Bertie and Jack + more interesting photos […] the brigade photograph photographed at the Kings review. One on[e] of them Bertie is standing beside the Queen + just behind the King" (30 November 1914).