William Andrew White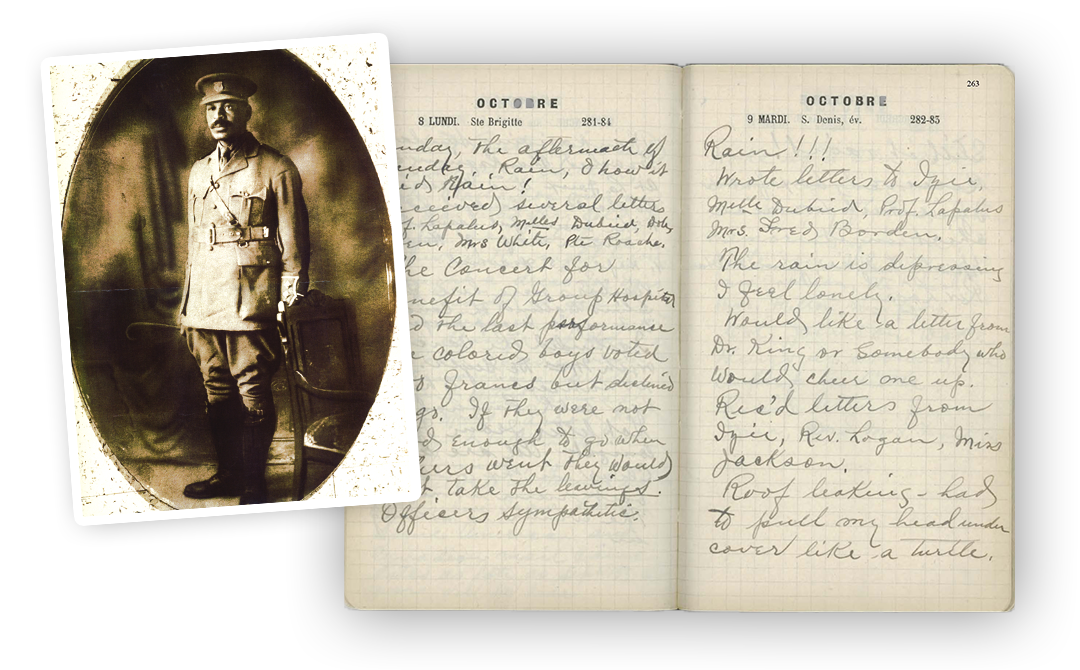 Born on 16 June 1874 to former slaves in Virginia, William Andrew White (1874-1936) moved to Nova Scotia in 1899 at the age of twenty-five and attended Acadia University, before being ordained as a reverend in 1903. On 1 February 1917, at the age of 42, he enlisted in the No. 2 Construction Battalion, an all-black unit of the Canadian Expeditionary Force. The first and only black officer in the Canadian Expeditionary Force during World War I, White was also the only black chaplain who served in the Canadian or British forces during the war. White kept two diaries while he served in Europe with the No. 2 Construction Battalion.
Written behind the Front Lines, White's two diaries provide insight into the operations of the No. 2 Construction Battalion, an all-black Canadian unit. A Baptist chaplain, White uses his diary to detail the emotional labour required in supporting the war. Even though White's entries are short and terse, reading between the lines, the reader senses the loneliness of the writer's separation from his wife, Izie, and the labour required to maintain a long-distance marriage. The diary also reveals the intersection of war with race and religion. White critically references the racist second-class treatment of the "coloured boys." He provides snippets on his weekly Sunday sermons, and the names of the patron saints' or religious holidays are printed for each day also reminding the reader (and the writer) of the chaplain's spiritual function.
The diaries are bound in black leather covers containing gridlined paper. The pre-printed text in each diary is in French, including dates on each page for daily entries. His daughter Portia White later became a world-renowned opera singer, and the Canadian author George Elliott Clarke is White's great grandson.
William Andrew White's diaries are at Library and Archives Canada.
Diaries of William Andrew White
---
Bibliography
Boileau, John. "William A. White." The Canadian Encyclopedia, 12 June 2019.
Pittman, Danielle. "The Wartime Service of Reverend Captain William A. White." Maritime Museum of the Atlantic, 13 February 2018.
Ruck, Calvin W. The Black Battalion, 1916-1921: Canada's Best-Kept Military Secret. Halifax: Nimbus, 1987.
White, William Andrew. Diary of William Andrew White. ca. 1917–18. Black ink and pencil on white grid-lined paper. Unpublished manuscript, 2 volumes, 802 pages, Library and Archives Canada (LAC), R15535-0-8-E.