Charlotte Edith Monture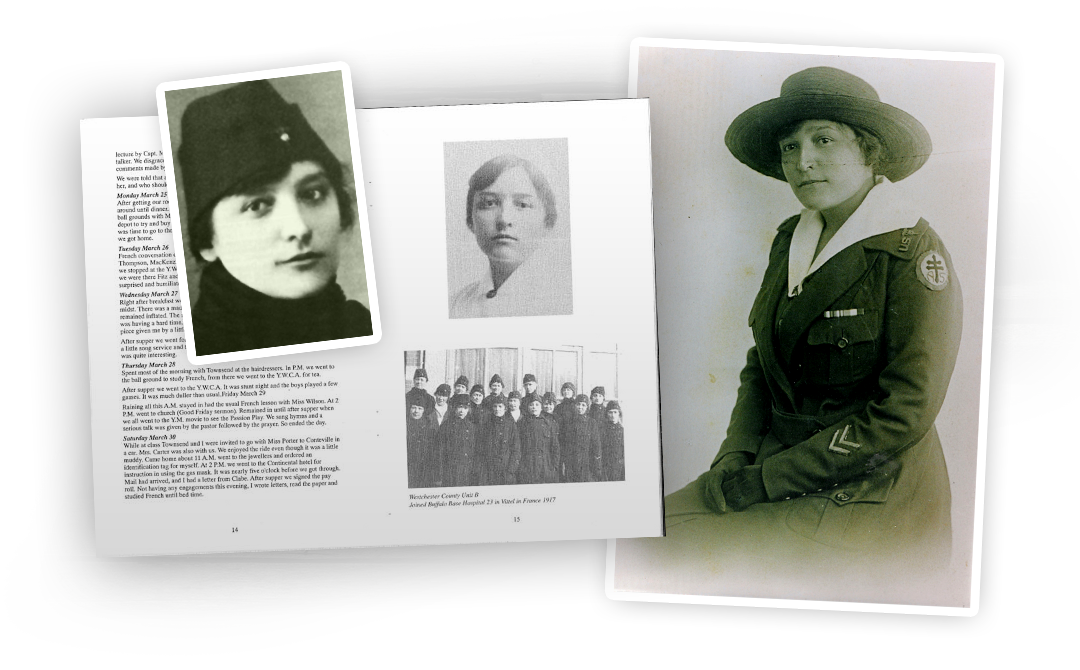 Charlotte Edith Monture née Anderson (1890-1996) was a Mohawk woman born on the Six Nations Reserve of the Grand River near Brantford, Ontario. Edith grew up in a large family of eight children. An excellent student, Edith Anderson applied to train as a nurse in Ontario but failed to be admitted because the Canadian Indian Act excluded her from many programs. Proudly defying the racism of her era, she studied in the United States, graduating in 1914 from the New Rochelle Nursing School in New York. In 1917, after the United States had joined the war, Edith Anderson enlisted as a nurse in the United States Army Corps, and was one of the few Indigenous women to be selected to serve overseas. According to some sources, when she visited her family to say good-bye, her family gave her ceremonial Mohawk clothing in case she should die overseas.
She served in the Base Hospital 23 in Vittel, France, enduring the hardships of witnessing war's trauma. In a 1983 interview with The Grand River Sachem, she recalled about her wartime experience: "We would walk right over where there had been fighting. It was an awful sight — buildings in rubble, trees burnt, spent shells all over the place, whole towns blown up" (quoted in Conn, n.p.). After the war, Edith Anderson returned to her reserve and worked as a nurse in the hospital. She married Claybran Monture and had five children. In 1996, Edith Monture's granddaughter Terri L. Monture Wicks transcribed and produced a typescript of the First World War diary of Edith Monture. At the time, Edith Monture was 105 years old. To this day, her descendants proudly cherish her memory, strength, and work.
Edith Monture's original diary, which is fragile, is in the hands of her family. A photocopy of the typescript edited by Terri L. Monture Wicks was donated to the MLC Research Centre by John Moses and serves as copytext for the transcription.
Diary of Charlotte Edith Monture
---
Bibliography
Conn, Heather. "Edith Monture." The Canadian Encyclopedia, 4 Dec. 2017.
Daniel, Molly. "The Story of Two Army Nurses in Lorraine: Agnes Swift and Edith Anderson Monture." Operation Canada.
Glassford, Sarah and Amy Shaw. A Sisterhood of Suffering and Service: Women and Girls of Canada and Newfoundland during the First World War. Vancouver: University of British Columbia Press, 2013. 34-35.
Monture, Edith Anderson. Diary of a War Nurse [Edith Anderson Monture]. Ed. Terrie L. Monture Wicks. 1996. Photocopy of unpublished typescript. Modern Literature and Culture Research Centre, Toronto. Gift of John Moses in 2019.
"Nurse Overseas." [Profile of Edith Anderson Monture]. Veterans Affairs Canada/Anciens Combattants Canada.