Clarence Booth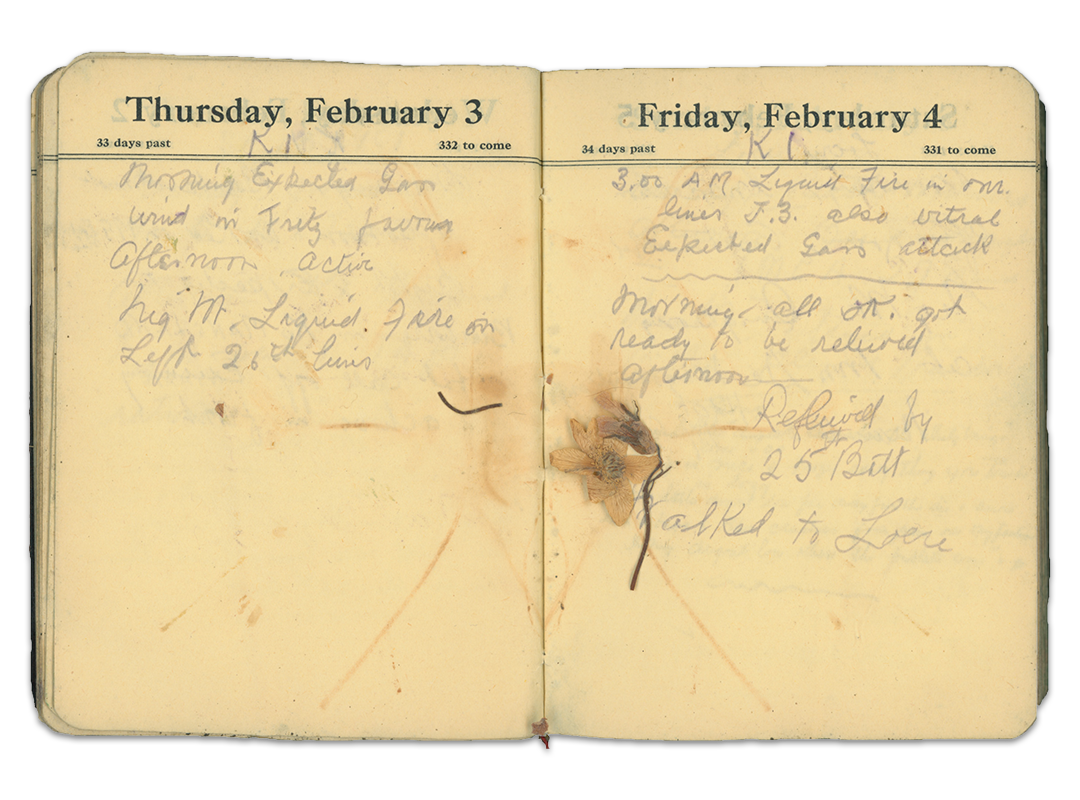 Clarence A. Booth (informally known as "Buster") enlisted as a drummer with the 24th Battalion (Victoria Rifles) of the Canadian Expeditionary Force on 7 November 1914. Booth was born in Springfield, Massachussetts, on 27 February 1893, but was living on St. Urbain street in Montreal, Quebec, with his mother when the war broke out. His attestation form lists his profession as jeweller and notes that he already had military experience prior to his enlistment, including membership in the Canadian active militia. Booth measured roughly 164 cm tall and had blue eyes, fair hair, and a fair complexion. He indicated belonging to the Church of England and designated his mother as next of kin.
Booth's diary offers poignant firsthand insight into the psychological effects of experiencing the horrors and devastation of the frontlines for extended periods of time. From the record given in the diary, Booth was first stationed in Flanders for the battles of Eloi, roughly 4 miles south of Ypres. During this time, he describes various various tasks and activities: filling sandbags, carrying ammunition, becoming a batman, serving tea, and packing kit bags. In spring of 1916, Booth increasingly begins to reference his medical problems, often capturing his fragile mental state in short but telling phrases. On 26 April 1916, for example, he simply writes, "Nerves starting to go bad," and again, on 30 April 1916, "This place is a sure hell," referring to what was likely Sanctuary Wood (also known as Canadian Hill 62). While in hospital on 2 June 1916, Booth records his diagnosis: "Shell shock." Booth suffered three recorded episodes of "shell shock" before being removed from frontline duty in June 1916 for the remainder of the war, which he spent as a batman and cook in the 2nd Divisional General Headquarters. Booth's notes during this time period indicate that he took culinary courses to improve the skills required by his new post.
Booth wrote the bulk of his entries in 1916 in a single 388-page brown leather bound diary with the words "A SOLDIER'S DIARY" and an outline of the general service badge of the CEF embossed on the front cover in gold. The inside of the front cover contains Booth's personally identifying information, and the diary contains some additional visual elements including pressed leaves and flowers and drawings by Booth
Booth's diary is held in the collections of the Canadian Centre for the Great War.
Diary of Clarence A. Booth