Inga Johnson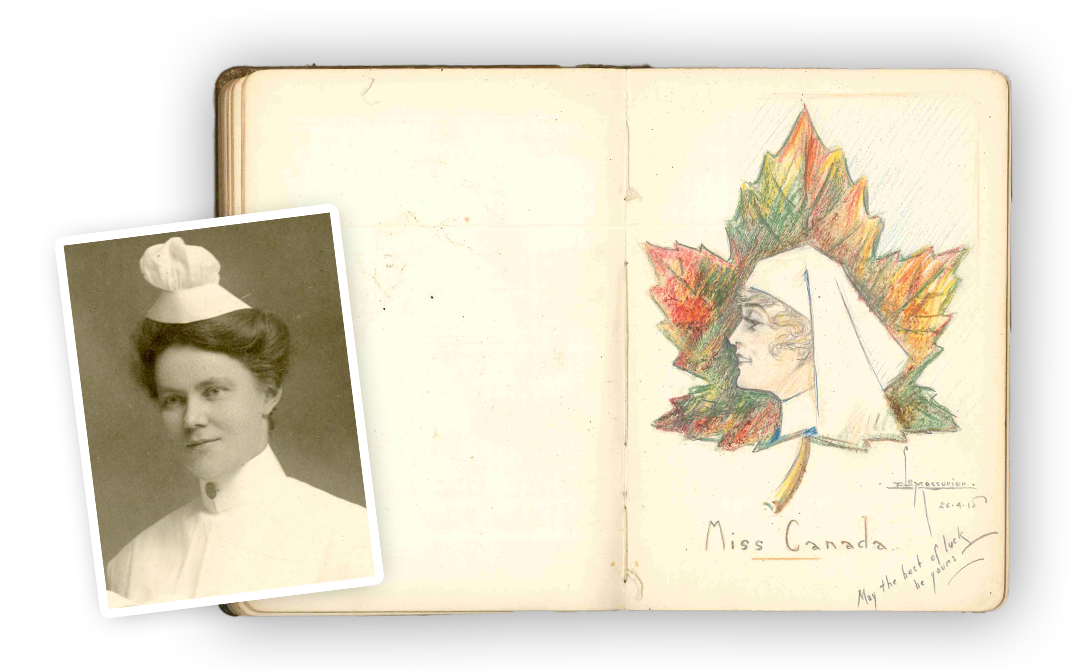 After graduating from the nursing program at Winnipeg General Hospital in 1907, Inga Johnson (1881-1948) worked as a Registered Nurse in Winnipeg, before enlisting for war service on 10 August 1916 at the age of thirty-four. She served as a nurse in the Canadian Army Medical Corps first in England and France. She served in three posts: first, the Canadian Army Medical Corps and the Canadian Expeditionary force at Moore Barracks Hospital in Shorncliffe; second, the No. 1 Canadian General Hospital in Étaples; and third, the No. 4 Canadian Clearing Station. Here, she stayed from 28 July 1917 until February 1919 and was eventually promoted to Acting Matron.
During this time, from 1917 to 1919, Johnson filled a single-volume diary-notebook with dozens of colourful drawings, sketches, poems, and songs, as well as collecting signatures from patients and colleagues. There is a collaborative element in this largely visual diary, which includes different artistic genres—from funny cartoons to highly realistic sketches—and different styles, with different hands signing these drawings, usually with their respective military rank and unit.
Here, the diary collects war memories in the manner of an autograph book or album as a curated record of Johnson's war experience as a nurse. One is reminded of Francis Picabia's "painting" L'Œil cacodylate (1921) which originated when he was in the hospital in Paris. He dated the canvas and applied the title, and then had all his artist friends sign the canvas with their own artworks and signatures. Just so, pivoting between art and memory, Johnson's diary reveals its relational function as a record of the author's community activity and communal service who orchestrates and curates her relationships with others. The middle of the diary features a five-page list with some forty individuals by name, rank, regiment, and date. Toward the end, a newspaper clipping tells the story of a soldier wounded just minutes before the armistice.
Johnson demobilized in Ottawa on 19 April 1919, and that year was awarded the Royal Red Cross (1st class). After the war, she continued to serve as a Matron at Gimli in Manitoba, the same place where she was born. By 1936, Johnson pasted a Vimy Ridge memorial brochure on the inside of the back cover. Her diary is at the Canadian War Museum Library and Archives.
Diary of Inga Johnson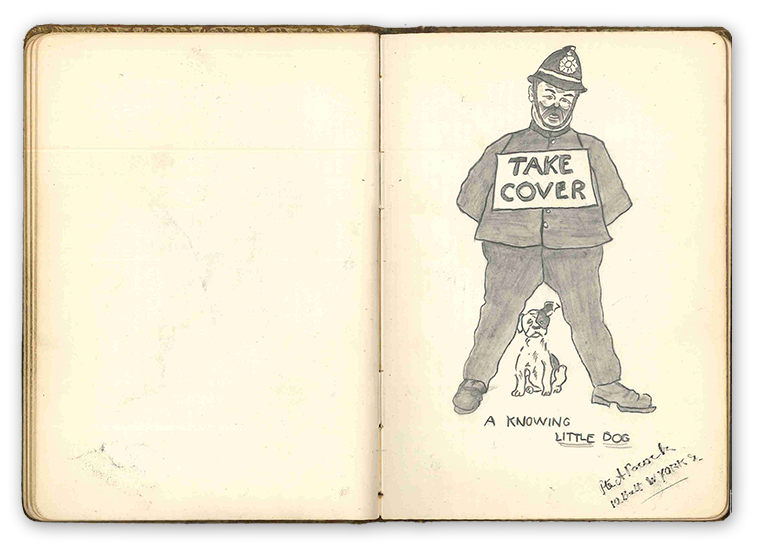 ---
Bibliography
"Biographical Note." Diary of Inga Johnson. Canadian War Museum Archives, 20160490-001.
Johnson, Inga. Diary of Inga Johnson. ca. 1917–19. Blue ink on white paper. Unpublished manuscript, 1 volume, 100 pages, 18.5 x 13 cm. George Metcalf Archival Collection, Canadian War Museum Archives, Ottawa, 20160490-001.
Morin-Pelletier, Melanie. "Miss Canada: The Autograph Book of Matron Inga Johnson." Operation Canada.
Picabia, Francis. L'Œil cacodylate (The Cacodylic Eye). 1921. Oil, enamel paint, gelatin silver prints, postcard, and cut-and-pasted printed papers on canvas, 148.6 × 117.4 cm. Centre Pompidou, Musée national d'art moderne – Centre de création industrielle, Paris.