Norman Allatt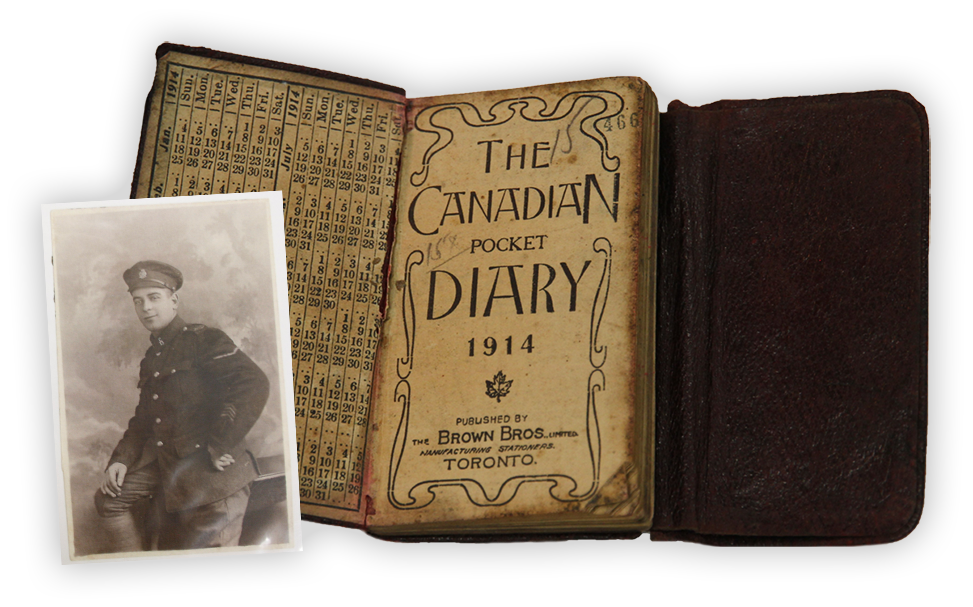 Norman Allatt was a shoe machine operator in Toronto in January 1915, when he joined the Canadian Expeditionary Force as a private with the 35th (Toronto) Infantry Battalion. Born in Dewsbury, Yorkshire, on 7 December 1892 to Fred and Anne Allatt, he was third of four children. At the age of fourteen, Norman arrived in Toronto with his family, settling on Victoria Park Avenue. By the time he enlisted in the army at the age of 22, Allatt measured 163 cm and had hazel eyes, black hair, and a dark complexion. By August 1915, after basic training in Toronto, Montreal, and Niagara, he sailed overseas for advanced training in Dibgate Camp in Chatham-Kent. Here, with occasional visits to his family's Yorkshire home, he learnt bayonetting, sniping, and "Trench digging + bomb throwing."
Allatt was assigned to the 14th Battalion, Royal Montreal Regiment, and remained with them throughout the war, eventually working as a sniper. Sniping, which typically involved rifles with telescopic sight, landed Allatt in the line of fire many times, one instance being on 20 May 1916 when he suffered a "slight wound on head with a[n] [enemy] sniper." His diary captures dramatic frontline events, jotted in crystallized filmic fragments, as he records on 12 November 1915: "Went up to front line to fix an officers dug out. Went through water knee deep./ At night on a ration party had a machine gun turned on us. Laid down in road." There are also poignant moments of witnessing death, as when he stands guard on the night of 15 October 1915: "[Helped] to carry soldier on stretcher. Fell down cliff./ Died a little later with fractured skull."
Allatt recorded these personal frontline experiences in three leather-bound diaries as well as a smaller leather-bound notebook from the years 1914 to 1916. His diaries are dated covering Allatt's everyday experiences, including marches and drills, sniper training, and fighting in trench battles. His undated notebook provides handwritten records on war tactics, protocols, and firing logistics—but it also moves the reader with its pressed flowers, leaves, and caricature drawings by Allatt himself.
Allatt was stationed in France near the Belgian border when the war ended on 11 November 1918. After his return home, he stayed with his parents at their Victoria Park Avenue home and took up his previous job as a shoe machine operator. During the war, Allatt had maintained correspondence with Gertrude (Gertie) May Benford. The pair married on 5 May 1920 and followed her parents to Detroit in 1923, where they eventually settled, Allatt working diverse jobs within retail. He died in January 1976, while Gertrude died the next January 1977.
Norman Allatt's diaries are housed at the McMaster University Library. The materials were donated by his surviving nephew, David Allatt, in April 2009 and January 2015.
Diaries of Norman Allatt