Ella Isobel Rogers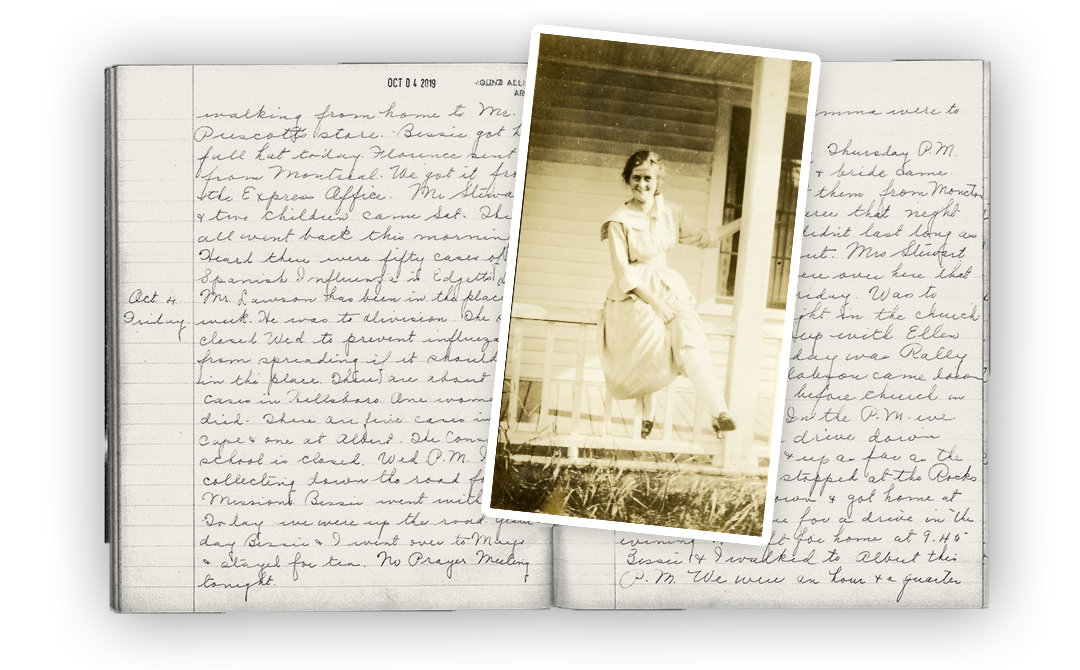 Ella Isobel Rogers (1900-1963) studied at the Mount Allison Ladies College, graduating in 1925. As she lived through the war during her teenage years, she kept diaries that document her activities during these years of maturing into adulthood in the rural community of Hopewell Hill, Albert County, New Brunswick. The first volume is made of loosely bound sheets of unlined paper, the second is a balance sheet notebook, while the third and fourth volumes are lined school composition notebooks. Comprising approximately 300 pages in total, this quartet of diaries recounts the day-to-day events in Ella Rogers' life as a student.
On these pages, she observed the effects of the First World War on her community. Given her youth and social life, Ella is remarkably similar to Rilla Blythe, Anne Shirley's fictional teenage daughter in L. M. Montgomery's novel Rilla of Ingleside (1921) who also keeps a war diary. Like Rilla, Rogers was active with the Red Cross and other organizations that supported the war effort, and she often records her attendance at fundraisers and recruitment events. Ella Rogers was also highly attuned to the overseas drama of the war, as indicated by several entries that remark upon the locations of specific battalions, whose soldiers she knew personally. On 28 October 1915, she writes: "The 26th Battalion is in Belgium fighting now. There were quite a number from that battalion in the casualty list last night. The 64th Battalion that Joe + Lester are in was nearly all Nova Scotia men so now they are taking the N.B. men out of it and putting them in the 104th so it will be all Nova Scotia."
Of special note are Ella Rogers' extensive comments on her personal experience as a survivor of Spanish flu pandemic. She also details its devastating effects, as on 4 October 1918, when she notes in her diary: "The school closed Wed. to prevent influenza from spreading if it should hit in the place. There are about 25 cases in Hillsboro. One woman died." The rhythm of her observations reflect the rhythm of the pandemic with its multiple waves and the efforts at building resistance and surviving.
Ella Rogers had two sisters, Bessie and Nellie. She married Harry Orliff Downey (1897-1974) on 10 October 1942 in Hopewell, New Brunswick, and Downey served as the speaker of the New Brunswick Legislature between 1944 and 1952. She died in 1963 and is buried in Wilmot Memorial Cemetery.
Ella Isobel Rogers' four volumes First World War diaries are in the University of Mount Allison Archives.
Diaries of Ella Rogers
---
Bibliography
Adie, Kate. Fighting on the Home Front: The Legacy of Women in World War One. London: Hodder & Stroughton, 2013.
"Ella Rogers Biography." Mount Allison University Archives, 2013.
Filipović, Zlata. "War Diary of a Teenage Girl in New Brunswick and Life on the Homefront." Operation Canada.
Montgomery, L.M. Rilla of Ingleside. Toronto: McClelland and Stewart, 1921.
Rogers, Ella. Diary of Ella Rogers, ca. 1915–21. Black ink on white paper. Unpublished manuscript, 4 volumes. Mount Allison University Archives, 2013.14/02.